2011: OPPOSITION THICKENS AGAINST AMAECHI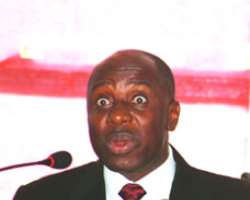 Governor Chibuike Amaechi of Rivers State may have to ride on a rough road to re-election next year.
This is because, there are emerging signs of re-grouping of the hitherto slumbering opposition in the state.
Checks by Daily Sun revealed that although the governor has a long list of people-oriented projects that have changed the face of the state, the opposition camp is warming up for a good electoral duel in 2011.
On the front row of those who want Governor Amaechi's tenancy at the Government House, Port Harcourt otherwise known as 'Brick House' terminated next year, are two of his unrepentant political foes, former Transport Minister, Dr. Abiye Sekibo and Sir Celestine Omehia, the governor's immediate predecessor.
It was gathered that Sekibo who is yet to publicly declare his ambition and role in the emerging arrangement, would pitch its tent with the Action Congress of Nigeria (ACN), while Omehia, who is Amaechi's kinsman, is planning to slug it out with him at the primaries of the ruling Peoples Democratic Party (PDP).
Until recently, Sekibo and Omehia who ruled the state for three months before the Supreme Court ousted him, were believed to belong to the 'Abuja Group' of Rivers State politicians loyal to former Governor Peter Odili.
Part of the strategies of the two camps is to woo PDP members in the state who are disenchanted with Amaechi's brand of politics including the alleged poor flow of party patronages.
Already, the Omehia group that has set up an office in Port Harcourt now boasts of, 'some formidable' youth groups in the state.
They include the Niger Delta Youths Coalition and the Rivers Youth Democratic Vanguard (RYDV).
Highly dependable sources also told Daily Sun that the youth groups have embarked on massive mobilization of youths in the communities.
The source hinted that the Niger Delta Youths Coalition, for instance, is planing a one million-man march in the state in no distant time.
'I assure you that very soon, people will come to realize  the level of disenchantment in this state when they see our people from various parts of the state come out to openly identify with Sir Omehia's ambition.
'One thing is sure, the people of this state want a change and Sir Omehia is the best alternative because he has been there and knows where it hurts.'
Already, handbills from the two identified youth groups are being distributed in various parts of the state.
Confirming his group's moves, the State Secretary of Niger Delta Youth Coalition, Apostle Sunny Johnson told Daily Sun that, 'not less than 50,000 posters' have been distributed in 22 of the 23 local government areas of the state adding that the remaining local government area would be covered very soon.
Apostle Johnson said his group has no problem selling Sir Omehia to the people because he possesses the needed credentials of a good governor.
'We believe that for somebody to become a good governor, he must be prepared and must have the political experience as well as a legacy of goodwill. He must also have the fear of God.
'Sir Celestine Omehia is such a person. If you look at his antecedents, he is the right choice and he is not new to elections. He has been there for a longtime.  Before he became governor, he served in various capacities including the post of Commissioner for Education'.
In the ACN, a businessman, Dr. Hekena Abel-Tariah, has declared his intention to slug it out with the incumbent governor at the polls next year.
It was gathered that Dr. Abel-Tariah, a Kalabari Chief, has been holding talks with royal fathers and community leaders within and outside Kalabari Kingdom.
Speaking recently in Buguma, Dr. Abel-Tariah said he would achieve meaningful development through effective use of professionals in project and policy execution.
But reacting to the on-going moves by the opposition, a top aide of Governor Amaechi told Daily Sun that, 'all their desperate moves are failure-bound' because of the governor's impressive performance.
'I do not know why they are busy chasing shadows. All the gang-up will come to nought because the governor has more than enough people-oriented projects to prove that he is committed to genuine development of the state.
'We can only wish them luck. But if you ask me, my take is that their failure is guaranteed. Even the blind has a feel of what Governor Amaechi is doing in the state. We don't expect anybody to take these so-called aspirants and their few supporters seriously'.