HOW MEDIA, CIVIL SOCIETY CAN HELP CURB BUDGET INDISCIPLINE – BEN AKABUEZE, LAGOS STATE COMMISSIONER FOR FINANCE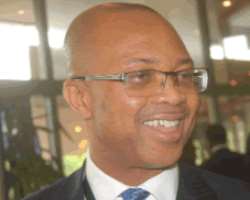 Ben Akabueze, the debonair Lagos State Commissioner for Finance, was at the recently concluded 16th Nigerian Economic Summit in Abuja. He spoke to Daily Sun team at the end of the summit on some of the burning national issues thrown up at the high profile parley, especially on Federal Government's habitual disregard for extant laws by not faithfully implementing national budgets as enacted into law by the National Assembly.
Using his state as a model, he called for transparency and respect for the people and the law in the implementation of budget provisions. He also has some strong words for the media and the civil society.
Excerpts:
There is a pervasive notion here, especially among the private sector people here, that people came to this summit with pre-conceived notions. What's your take on this?
First of all, participation at this summit is not restrictive. It is open to everyone who desires to come and can afford it. I have participated actively in past summits and I know there is provision to sponsor people from the academia, students' unions, labour, etc. It is not sufficient to come and make sweeping statements dismissing the figures that others bring. You know that there is going to be a summit, you know that as usual people will come with numbers.
So, you should come prepared with contrary opinions and or figures. And the press in particular should be a lot more investigative. As you know in the United States, when it is time for politics, politicians will throw all kinds of numbers and whatever. The media will go and do a fact check and the ones that are not correct, they will come back and tell the public, 'this man said this, that man said that. We've gone to check, here are the facts, it is not so.' When you do that, the next time the man will be very circumspect about coming to put numbers in the public. What is happening is that such people do not have concrete basis for their assertions, they just make sweeping criticisms about the numbers others have put out.
You were in the private sector before coming into government. Now, you are in the public sector, do you think the private sector is playing its role well in the economy?
The truth is that both the public and the private sectors can do a lot more than they are doing. In the public sector, there is a lot of ineptitude. There is lack of vision and corruption. In the private sector, there is a lot of rent-seeking behaviour; there is also corruption, because often it takes two to tango. The truth is that all of us seem to act in self-interest, whether they are in the public or private sector.
However, if a group of people have taken it upon themselves, and accepted the burden of governance and have been entrusted with that mandate, then, the people are entitled to demand greater accountability from them. For the private sector man, it becomes a matter of personal conviction whether his accountability is only to his shareholders or to the larger society. But the man in the public sector does not have that choice at all. And so, when the private sector is heavily critical of the public sector, it is not because they themselves are perfect . If you take a position in the public sector, it is the public sector everybody has a say on what you do or what you don't do.
How do you think we can overcome the problem of budgetary indiscipline in the country, drawing from what your governor, Babatunde Raji Fashola is doing in Lagos State?
There again, there is a lot that we can do. One of the things that we can do is what Governor Adams Oshiohmole said at the summit. In his opinion, budgetary indiscipline should bring into the open (issues) for public discourse as a national problem. It is not that Nigerians are exceptionally bad but the fact is that the environment makes it easy for people to get away with certain things.
Again, if I refer to other climes, you see how far the press goes to keep people on their toes in terms of budgetary applications. For some years now, they have been publishing the monthly allocations right down to local governments. Which media organisation has taken it upon itself, which civil society organisation has actually sat down to say, 'this is the total you have been getting from the public treasury, show us what you did with it'?
Budgets in Nigeria have been traditionally cast in monetary terms. They announce that they are going to spend N100 million on education. It is our duty to take them on and say, 'this N100 million, what does it translate to in practical terms?' Don't tell us how much you will spend on education, tell us how many classrooms you will build. How many desks you will construct, how many teachers you will employ so that at the end of the year we can go and check, because if you say you are going to spend N100 million, you can spend the amount easily for no value. At the end of the day, it is not sufficient for the press and the civil society groups to keep bemoaning what they perceive as ugly situations. There should be monitoring on their part.
In Lagos, we have taken the lead. When I was in the private sector, we had a saying that if you want to be successful in business in Nigeria, you've got to purpose to succeed in spite of the government, not necessarily with the help of the government. You have to build your business to say in spite of what they do or not do, I have to have a plan to succeed. In Lagos government, our approach also is to succeed in spite of the Federal Government, in spite of what they do or not do. And that is why we have tried to build our own model.
Recently, they announced at the federal level that they were going to take budget to the Ministry of National Planning. There is nothing novel about that. We did that 12 years ago in Lagos State when Senator Ahmed Bola Tinubu came into office. We have Ministry of Finance and Ministry of Economic Planning and Budget. It is taking the Federal Government 12 years to make up its mind on the issue. In the interim, a number of states have adopted the same model. In our budgetary practices, we are driving budget impact assessment.
We have introduced, with effect from this year, what we call the 'Citizens Budget', where we reduce the budget to the language the ordinary citizen can understand. In all the key sectors, we will tell you not how much we will spend, not what we will do, but what we will deliver. If, for instance, we tell you we are going to build this five-kilometre road within a given period, after that period, you go and check. You will find it as we told the public. You will see it with your naked eyes. We will keep doing our own bit and hope that by so doing, we will encourage others to follow suit.
In pragmatic terms, how can we address the issue of human capital development, given the state of our education sector?
First of all, we need to consciously create jobs. We have to make that a fulcrum of our economic policy or whatever we are doing, At the end of the day, that's what matters. In the USA, they are not impressed by economic data, GDP is growing at whatever rate. Every month, the question is: what is the job data?
That is what the American people are interested in. All those fancy statistics, the bottom line is: what is the job data? And they keep their focus on it.
Then, you will not have the kind of jobless growth that we have in Nigeria. You can't be celebrating 7.8 percent growth and no jobs are being created. When you provide that environment for creating jobs, then, the next thing that you need to do is to try to march your education system with the job market. Create a flexible system that is tied to the job market.
Employers of labour should know that it is in their own enlightened self-interest to invest in the educational system, to produce the right manpower that they want. Otherwise, at the end of the day, it is either we will be stuck with inadequate manpower or you will have to go outside to engage more expensive manpower. The private sector needs to do more rather than just criticise the declining education system. The government has proven that it can't do this thing by itself. The private sector needs to provide support, endow professorial seats, and create scholarship programmes.