FACTORS THAT FUELLED CRASH IN STOCKS – MICHAEL ITEGBOJE, PRESIDENT, CHARTERED INSTITUTE OF STOCKBROKERS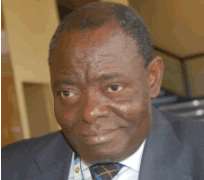 Michael Itegboje, president, Chartered Institute of Stockbrokers, was one of the private sector buffs that attended the recently-concluded 16th Nigerian Economic Summit in Abuja. After two days of fireworks within the Congress Hall of Transcorp Hilton Hotel, venue of the summit, he took time off to speak to Daily Sun on the factors that induced last year's crash of the Nigerian stock market, and fingers the pitfalls investors must avoid like plague.
Here are excerpts from the interview:
Policy implementation and fidelity to business ethics also recurred during the summit. Coming back to your primary constituency, how can we remain focused on our policy implementation process and ensure transparency in the operations of the capital market?
First, on the global level, transparency has to be by example as the president said yesterday (the opening day of the summit). Every leader at all levels must not only be transparent, he must also be seen to transparent. You heard what the youths said a while ago. They are saying that we need people who will show us worthy examples. If you show us example to do the right thing, we will do the right thing.
If we all at all levels decide to be transparent and put it into practice, then, we can as a people. Now coming back to the Nigerian market, it is true that we had cases of what people termed 'price manipulation'. But, you see, the system is so transparent that no single individual can manipulate the prices and get away with it. You have no demand and you have no supply.
The market is such that in a day, there are hundreds of price variations between the opening price and the closing price. And one thing is very clear; it is a computer-based system such that if you enter your price, you don't know what the other guy is going to enter. Allotment of shares is done on the basis of the highest price offered. Not only that, if two prices entered at the same time, the system would check which entered first.
And then if a price is at variance with the entire market system, that person may not even get any share. In terms of trading, there is transparency. But when it comes to the public offers, public issue, that is where you could say prices are manipulated to deceive or entice the public to take part. And that is outside the control of the stockbrokers. It is outside the control of the public.
From what you have just said, and appraising the calamity that befell the Nigerian stock market in the immediate aftermath of last year's global financial downturn, it is certain that the regulatory agencies either lost control or they simply failed to perform their statutory mandate. The regulatory agencies have one factor: they look at a company that is coming to the market, do an analysis of the assets and liabilities and then come out with a price. They are not the ones who fix the price but the issuing houses with the issuer deciding on what price they will offer.
The regulator will look at it, if it is too high, the regulator will say that it is too high, and if it is too low, the regulator will say it is too low. The regulator cannot force any company to say 'this is the best price we have to offer.' This is because you have to decide, 'what price am I coming to the market with?' That will make it possible for me to sell the issue I am offering. And if it is too high, you can be sure that it will be under-subscribed. If it is too low, you can be sure that it will be over-subscribed.
And at the end, you may have to re-adjust your price. Whatever price you use, once it comes to the market, market forces will take care and give the right price.
That's why you find that as soon as a lot of companies were listed, even though they went up initially, when the reality dawned, the market had to adjust. That is a corrective mechanism that is in-built in the system, and that is within nobody's control. Of course, we are facing the impact, but that is the reality.
Can't the system fish out those price manipulators who are impugning the integrity of the process and punish them?
The people are not there. They've never been there, trading. The issues of the companies that are listed in the market, they only bring them to the market and they can't do anything after that. They are to provide information on a regular basis. If they fail to provide information on a regular basis, The Exchange will have to sanction them. And that is what The Exchange is doing now.
There must be a correction of one fact. When it comes to issues, in other markets, there are different ways a company can sell its shares to the public. You can (sell) wholesale to a group of market makers who will, in turn, on their own, sell them on the secondary market. Like Google, when it was sold, the market makers sold it at US$100 and then gradually released it to the market at their own prices. They (market makers) bought out Google from the issuer by paying them $100 per piece and that was the end.
The issuer had nothing to do with it. It was now in the market and anybody could now buy at whatever price the market makers issued. That is the only thing that is lacking in Nigeria. The other thing we need to understand is that the regulators play a role. And what is their role? They look at the prospectus and make sure it meets the standard. And once a prospectus meets the standard, the next best thing is for the Nigerian investor to say, 'what do I do?' And that is where he seeks professional advice. We had a situation in Nigeria where every Nigerian knew what was 'right'.
You will see a person, and he will say: 'Have you bought this share?' It was the in-thing. He wouldn't know what was happening. You even find a situation where bankers put their staff on the street to be selling their forms, which is not what they are supposed to do. The bank tells you, 'because you have money in our account, then you should buy our shares.' That is wrong. Those were the things that were wrong in our system. The prospective buyer should meet the stockbroker and say, 'Can I buy here?' And the stockbroker will say, 'look, based on the prospectus, don't buy this'. This is simply because the prospectus is there to guide you.
So, the onus is on you, as an individual, to make sure that nobody makes a fool of you. And you can only do this by seeking correct advice. If your professional advice is wrong, blame that professional. If a stockbroker gives you a wrong advice, blame him. But if you did not seek his advice at all, and you just listened to a radio jingle, or somebody telling you that this is the next best stock, and you fall for it, you have yourself to blame.
As stockbrokers, we don't advertise. Therefore, it is only as you go to stockbrokers that they can sit you down, go through what they have done in that particular company, and give an up-to-date analysis, and say, 'you are now free to take a decision'. In the past, we never heard that people just picked the application form without looking at the abridged prospectus. Before the unfortunate crash, people even photocopied application forms and submitted. In that kind of circumstance, who will you blame?
The person who picked such a form has himself to blame. It is supposed to be eight pages minimum and you have only one application on one page. Where do you work on it? Who gave you the advice?
When somebody comes and says, 'please, I am a member of staff of so and so bank, I need to make my target. If you buy shares from me, I will make my target.' If you buy on that basis, who will you blame? These are some of the things that were wrong in our system that people do not understand. Because of that situation, we see the result today. As far as I'm concerned, everyone is to blame.