People thought I was a sadist —Christy Igbokwe, Lady of Songs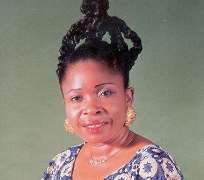 At a tender age she discovered her destiny as a singer in a unique way and many people thought she was a sadist because of how she usually received inspiration from angels to sing. Today, what started like a child's play 34 years ago has put Chief (Mrs.) Christy Essien Igbokwe (MFR), popularly known as Lady of Songs on top of the world as a respected musician and actress.
Speaking on her road to success, she said; "I started having relationship with angels right from when I was a baby. In 1976, at the age of 16, I started hearing strange voices and songs from heaven. I later went to my guardian, Mrs. Maria Chukwu and told her that they wanted me to sing now and she said who? I told her that I am hearing some voices and songs were just coming from heaven. It got to a stage that she was thinking may be something was wrong with my head. In those days, I will just lock the door and start singing, tapping and be doing the beating by beating my table very hard. Anytime she came to me, I will tell her I am singing and recording what I am hearing from heaven. She thought I was going mad because of loneliness; because I hardly related with people then and I didn't have friends. I was just 16 years old then.
"She called me one day and asked how she could help me to achieve my dream as a singer? I told her that she should help me to get a record cassette. She went to market and bought a used cassette recorder because she couldn't afford a new one. I started singing and recording all the music I was receiving from heaven. At the beginning, my action was strange to her. At a period, because of the trend in the entertainment industry then, when actors and musicians were mistaken for rogues and prostitutes, she started feeling concerned about my career, but I told her that it was God who wanted to use me to bring respect to the music industry so that people can start listening to my music and give respect to people in the industry. She was proud of me until she died. Many people thought I was a sadist at the beginning but looking back today, I don't have any regrets going into music. I always tell people that I like what I was doing and I think I have achieved my aim."
Since that dramatic event, Christy Igbokwe has not stopped having encounters with angels. As she turns 50 next week Thursday (November 11), Igbokwe believes that her success in life, especially in the entertainment industry is as a result of the support of God through His angels who have been appearing to her and giving her instructions.
From the late 1970s, the Lady of Songs who was one of the founder members and vibrant former President of PMAN, became a voice to reckon with in the society especially in the entertainment industry where she has performed remarkable for over 35 years as a respected musician and actress. As a child of destiny, at age seven, she started dancing with drama groups in schools. She finally caught her teeth in music and drama in 1976 when she sang in the "Now Sound" television programme and also featured as Akpena in the "New Masquerade" television programme, both on NTA, Aba.
Igbokwe today has 10 hit albums to her credit. The albums are Freedom (1976), Patience (1977), Time Waits for No one (1978), One Understanding (1979), Give me a chance (1980), Ever like my person (1981), Taking my time (1986), It is time (1988), Hear the call (1990) and Mysteries of Life (1994). But, according to her, the one that her fans seemed to cherish most was "Ever like my person" which sold above the platinum.
In the last 30 years of her career, Lady of Songs has used songs to affect lives locally and internationally by singing at different shows. According to her, the greatest show she will always remember was the Liberia show. "I have featured in many international shows but the greatest one to me is the show I had in Liberia before the civil war, where I was the guest of that country to raise fund for improvement of the only television organisation then during President Samuel Doe's tenure. I will always remember that show because of the way I was embraced by children in Liberia who didn't want me to leave Liberia after the show. After the show because of my love for children I ended up adopting three Liberian children," she added.
Music is a powerful weapon in the hands of anybody who is talented with it and that is why the Lady of Songs was able to convince the former Head of State, General Ibrahim Babangida, to stop the scrapping of the Federal Road Safety Commission (FRSC) when some people were calling for it to be scrapped or merged with the Nigeria Police Force.
She said, "During the call by many Nigerians for the scrapping of the FRSC, I tried to see Babangida to appeal to him not to scrap the organisation, but I was unable to see him because he was not around then. But as God would have it immediately he came back I was called by an organization to perform in a show in Abuja where they had invited Babangida. I saw the show as an opportunity to present my case before the president and I accepted to perform at the show. During the show, I was able to convince Babangida not to scrap the FRSC and he accepted."
Speaking about her marriage to her husband, Edwin, when she was 19 years old, the Lady of Songs attributed her decision to marry as a teenager to divine instruction from God. She disclosed; "In 1977, an angel appeared to me and told me that I will be getting married the following year. I believed the angels because it was angels that I have been taking care of me from my childhood days telling me what to do, where to go and where not to go. But when I told people during our rehearsal that I am getting married next year, they all laughed. They said, 'who is going to marry you that don't go out?' I told them to wait and see. They made a joke of it. It was when I got married that they believed me.
"Because of my relationship with angels, I was later told how I will meet my husband. The angel told me they are going to invite me to Lagos for a programme and that is where I will meet my husband. I travelled to Lagos for the programme and met my husband, who was then the General Manager of Punch through the Publisher of Punch, the late Chief Olu Aboderin, who was like a father and my mentor. Chief Aboderin told me that he wanted me to marry his son and that is how he match-made the two of us and we got married later.
An angel also told me that I would give birth to four children and that all of them would be male. When I told them what God has for me; they asked me how somebody can know the number of children he will have and the sex too? I told them to wait and that is when they will know whether I am seeing angels or not. As God would have it I got married the following year and my first born was a male, likewise my second son.
"Today, all my four children are boys. My happiest moment in life is the day I had my first baby. I was very happy because what God told me came to pass that I will have four boys, I was also very happy because God did not disgrace me. It even got to a point that I tell people who are pregnant the sex of the child." Igbokwe stressed.
The Lady of Songs, who has featured in many national and international shows, which has earned her 10 international and 32 national awards, said that living a principled and disciplined life within and outside the stage has contributed immensely to her success.
At 50, she believes she is yet to live a fulfilled life. "Nobody is ever fulfilled until the day he dies. Forget about many people who are saying they are fulfilled in life, if you ask them they will tell you there is something they have not done. At my age, I am grateful for what I have been able to achieve so far. If more things come my way in future I will still be ready to do them," she said.