Sunlight, Muyiwa Ademola present Iyo Aiye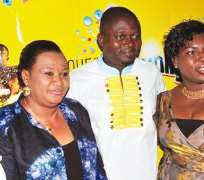 The much-talked about Muyiwa Ademola movie, Iyo Aiye, was finally premiered in Lagos last Sunday and indeed, it was a mind-blowing event.
Ademola, in partnership with Sunlight 2-in-1 Detergent, brought together the cream of Nollywood and other high-profile personalities to the event.
The Brand Manager, Sunlight, Mrs. Nike George-Aiyudu, says, "Our involvement with Iyo Aiye can be described as in-movie brand activation because it goes beyond product placement, which has become the norm in the movie industry.
"In Iyo Aiye, Sunlight goes further to entrench its brand benefits in the minds of consumers by weaving the brand essence creatively into the story line of the movie."
Many artistes, including Dude Tetsola and J Martins, added spice to the yellow carpet event.