PIB: Mark Assures On Passage of Bill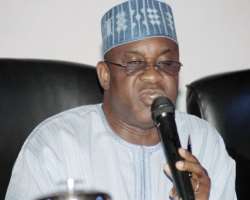 PHOTO: SENATE PRESIDENT DAVID MARK.
ABUJA, Nov 04, (THEWILL) - President of the Senate, Senator David Mark today raised the stake on the much awaited passage of the Petroleum Industry Bill (PIB) when he declared that 'passage of the bill would be a watershed of a change in the nation's oil industry' and promised that the National Assembly is now ready to pass the responsive content of the Bill, which is before it.
The National Assembly he stated is conscious in addressing some issues raised by some players in the industry particularly those asking for a softer version of the bill, adding that whatever decision reached would definitely be in the interest of Nigerians.
Receiving the National Executive of the South-East, South-South Professionals, (SSSEP) led by Dr. Emeka Ugwu-Oju who visited him in his Abuja office, Mark said the interest of the lawmakers is to ensure a fair share and open doors for favourable environment for all players in the industry.
He assured that the bill when passed would bring the needed opportunities and improvement that stakeholders of the sector have been yearning for.
Senator Mark stressed that: "The bill must find a fair balance to allow government extract value during good times and ensure continued investments during tough times.
"Looking at the potentials, the industry still has a lot to offer to the country. There is need for all parties to continue to dialogue, because if we implement the bill properly, it has the potential to transform the industry."
Earlier, the President of the association, Dr. Emeka Ugwu-Oju said the SESSP is canvassing good governance in Nigeria at all levels as well as making governance people friendly.