PATIENTS GROAN AS FEDERAL DOCTORS JOIN STRIKE IN LAGOS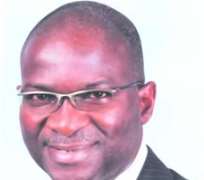 Gov. Fashola
A middle-aged woman, Mrs. Precious Alabi, a resident of Mafoluku in Oshodi Area of Lagos, left home as early as 5.30am with her little daughter who is a patient at the National Orthopaedic Hospital, Igbobi to keep an appointment with her doctor.
However, when she got there, she was told that the doctors were on strike. It was difficult for her to express the shock she felt.
'We're shocked at what we are seeing today. I do not have the slightest idea that today's appointment will be a mirage. My daughter has a major fracture and she reels in pains day and night. As I speak with you, you can see the pain on her face.
'Despite all that, the doctor that is treating her is nowhere to be consulted. They say they are on strike. Where do I take her to now?' she wailed. 'If I say let us go to a private hospital, you don't get bone specialists easily,' she added.
At the Lagos University Teaching Hospital, our reporters spoke with one Mr. Innocent Ugwu, whose brother is hospitalized in one of the wards. 'Where do we go from here. We were referred to this place from another hospital. My father has chronic liver problem and they say it is here we can get specialists that can treat him. He is in severe pains. There is no doctor in the ward to attend to him. We are just confused, I don't know what to do,' he said teafully.
Alabi and Ugwu's lamentations and concerns are typical of what the average patients and their families have been coping with since federal doctors in Lagos State went on sympathy strike for their colleagues employed in Lagos State. Yesterday morning, patients who had thronged the Federal Government hospitals for medical attention were seen going back home, as there were no doctors to attend to them.
Patients on admission at the various wards were seen lying helplessly on their beds. Most of the patients who spoke with Daily Sun expressed displeasure and disappointed as to why Lagos State government would allow doctors' strike in the state to degenerate to the level it is presently.
Indeed, these are harrowing times for patients at the Lagos University Teaching Hospital (LUTH), National Orthorpaedic Hospital, Yaba, National Psychiatric Hospital, Yaba and Federal Medical Centre (FMC), Ebute-Meta. Although consultants, nurses and pharmacists were on duty at the hospitals, the absence of the doctors had begun to take its toll.
Confusion, anxiety and hardship can best describe what the average patient and their families are facing since doctors in federal hospitals in Lagos went on strike yesterday. The warning strike, which will last for three days is the fallout of breakdown in negotiations between the Medical Guild, which is the umbrella body of Lagos State employed doctors, the Nigerian Medical Association, Lagos State chapter and the Lagos State government over the implementation of the Consolidated Medical Salary Scale (CONMESS).
Speaking on the development, the Chief Medical Director (CMD), LUTH, Prof. Akin Osibogun described the sympathy strike embarked upon by federal doctors as unfortunate and avoidable.
'The sympathising doctors in federal hospitals are already benefiting from an enhanced new salary scale,' he said. He appealed to all stakeholders to urgently resolve the crisis 'in the interest of the suffering patients.'
Meanwhile, speaking with Daily Sun, Chairman, NMA, Lagos State Chapter, Dr. Temiye Edamisan Olusoji noted that the response of the Lagos State government had been unpleasant, lacking goodwill and reciprocity.