BOKO HARAM: WHY FED GOVT WON'T RELEASE REPORT NOW – GUSAU, EX-NATIONAL SECURITY ADVISER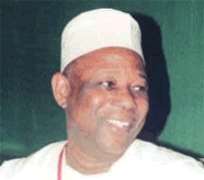 Immediate past National Security Adviser (NSA) to President Goodluck Jonathan and presidential aspirant of the Peoples Democratic Party (PDP), General Aliyu Gusau, was recently at the Nigeria Union of Journalists (NUJ), Press Centre, Kaduna, where he fielded questions. Daily Sun's reporters were there. Excerpts:
Mission in Kaduna
I am here in Kaduna to see the governor, to visit the state party headquarters and also the House of Assembly. I said it is only appropriate if I find the time to visit this centre. I am offering myself to run on the ticket of the PDP as the President of the Federal Republic of Nigeria.
I believe I have all the qualities, all the experience, and all the knowledge to give back to this country the good name it has had over many years. I believe I can assemble a team that can help to solve the teeming problems that we have in this country whether it is Niger Delta, kidnapping in the South-East and other parts of Nigeria. Whether it is drought and flood in the northern part of Nigeria.
Whether it is transportation, roads, railways and the waterways, I believe we can tackle these and solve them.  I believe within a short time we can resuscitate PHCN so that our people, our industries that have been closed down, will open again. Our factories that have been shut down will come alive again, and our youths that are jobless can be gainfully employed. In this country there are lots of potentials because any country with human resources and this nation has talents. What is left, is to be tapped, that is what we are going to do when we come to power.
If you fail to scale through the PDP primary, would you still remain in the party?
I don't think I am going to lose, I believe I am going to emerge as the winner.
As the former NSA, what is your assessment of the present security situation in the country?
It is something very serious and we have a blueprint on how to go about it. I have no time now to spell it out. When the time comes, we will definitely sit down and look at it from ward, from the family level up to the  Presidency.
Why insisting on zoning?
There was an agreement, South got eight years, then North started, unfortunately the President died. North believes the zoning issue should continue, so we believe that 2011 should be the turn of the North to do another four years before it goes to the South. That is the PDP arrangement. Now, there are four or five of us, four of us have agreed. We have appointed a committee of nine wise men to endorse one, anyone of the four of us, who will go and do the primary with anybody who wants to contest on the PDP ticket, we will support him.
If the four of you lose, will you work for Jonathan?
I cannot answer for the others. But I can answer for myself, and for myself, I don't expect to lose.
There were so many crises under Obasanjo and you were the NSA, what happened?
As a journalist, you have an editor and you send your story to him. It is not every story you send to your editor that he publishes. I was an adviser, I only advise, but when the time comes for me to say do this, I get it done.
Tell us more about the pact between you, the late Abacha and IBB that you guys will rule the country one after the other?
I am not aware of any pact with any General, that three Generals will rule the country one after the other.
Were you handed over Boko Haram report when you took over from Sarki Mukthar as the NSA?
Yes, I took over from Sarki Mukthar.  There was an inquiry into the activities of the Boko Haram, but such activities were intelligence related. They are very complicated inquiries and investigations that cut across other borders. You have to go to Chad, Cameroon, Niger and sometimes up to Mali for investigations. The inquiries and those investigations are still on going.
Why can't you allow younger generations in the North to lead the country?
Let the younger ones come out, we will encourage them. I am not against anyone that comes out. The one that came out that said he wants to be President is Bukola Saraki, and we are now together with him. We asked the elders to get one of us to contest, so the young ones should show interest.