ACN, A BIG THREAT TO PDP IN S'WEST, JONATHAN TELLS NWODO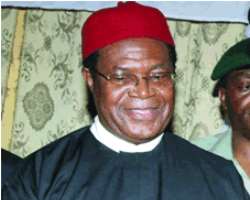 President Goodluck Jonathan has expressed concern over the factionalisation of the Peoples Democratic Party (PDP) in the South-west zone, describing it as inimical to the success of the PDP at the coming general elections.
Worried about the pervasive wrangling within the Party, the Presidentwas said to have held a crucial meeting with the National Chairman of the party, Dr Okwesilieze Nwodo, at the Presidential Villa on Sunday.
A Daily Sun source at Wadata Plaza, the PDP national secretariat, revealed that 'The President gave Dr. Nwodo the mandate to explore all avenues towards resolving the crises, so as to avoid a situation where the main opposition party in the zone, the Action Congress of Nigeria (ACN)  could exploit the crack within  the PDP  states chapters to its advantage.''
Almost all the PDP chapters in the south-west are embroiled in leadership tussle between factions. In some of the states, factions are either insisting on fresh congresses or harmonisation plan that would create an all-inclusive executive in the state chapters. In Oyo State, a group, the Patriotic Elders Forum, led  by former governor, Senator Rasheed Ladoja, has been engaged in war of attrition with the State Governor, Alao Akala  over who controls the state chapter of the party.
While the Patriotic Elders Forum claims that Alhaji Yunus Akintunde-led Implementation Committee constituted by the General Ike Nwachukwu Reconciliation Committee is the authentic PDP executive of the party in the state, the Governor Alao-Akala camp insists that the Chief Dejo Afolabi-led executive was produced by a  duly conducted congress.
In Ogun State, the state chapter is polarised into two camps: the Chief Joju Fadairo-led executive, which enjoys support of the Governor, Gbenga Daniel, and the opposition, which proclaimed Chief Dayo Soremi as chairman of the party in the State. The latter group  has a parallel party secretariat in the state.
The relative peace in Osun State chapter of the party is under threat, as a result of the lleged support for the gubernatorial ambition of the Chairman Senate Committee on Appropriation, Iyiola Omisore, a gubernatorial contender in the state, by the Ademola Rasaq-led leadership to the disaffection of other aspirants, who had allegedly vowed to undermine the PDP at the general election if Omisore clinched the party's gubernatorial ticket in the state.
The Lagos chapter of the party is equally polarised as some stalwarts of the party continue to kick against the leadership of the party by Mr. Setonji Koshoedo.