2011:WHY WE BACK JONATHAN, BY UWECHUE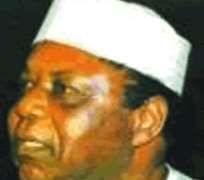 The advertorial I wrote
Many people are saying that the advertorial should have been signed by several people; but the truth of the matter is that if the president of a country wants to sign a document on behalf of the country, he does not have to invite the Secretary to the Federal Government to also sign for the world to believe it is genuine.
The important thing is that if the executive has given approval, then, the president signs, and that is what we have done.
When the late President Yar'Adua went for a medical trip in Saudi Arabia, and there was controversy on if he should govern from his sick bed in Saudi Arabia, Ohaneze issued a press statement, which was approved by the executive, and it was my signature alone that was on it where Ohaneze advised that Jonathan be made acting president.
The important thing here is that Ndigbo was consulted, and there was total agreement by the executive of Ohaneze. Ndigbo are seriously for Jonathan, and we are not making pretence about it. Before we arrived at the conclusion, the interest of the Igbos was put into consideration.
What Ndigbo would gain if President Jonathan succeeds
In the course of our consultations, Ndigbo realized that since General J.T.U Aguiyi -ronsi was killed in Ibadan, an Igbo man is now the head of the Nigerian army, and it was Jonathan who did it. We have always protested on why the Enugu airport was not given full international status, even though the people who have suddenly discovered that they are lovers of Ndigbo, feeding the public with false pretence, ignored the Enugu airport because they felt that making it an international airport would boost economic activities in the South-East and save our people from travelling to Lagos and Abuja before flying out of the country. Jonathan has done it for us. For the first time in the history of Nigeria, an Igbo man has been appointed Minister of Internal Affairs, which is an important ministry.
When Senator Ike Nwachukwu was the Foreign Minister, he was to be appointed Minister of Internal Affairs, but overnight it was changed. They didn't trust an Igbo man enough to head that ministry and they didn't want an Igbo man to be in charge of security, that was how Ike Nwachukwu became Foreign Minister twice. Ohaneze is not partisan.
If Jonathan had come from any other party that is not the Peoples Democratic Party(PDP), we will still support him, based on the fact that he is a new generation leader, who can help Nigeria. We are not supporting Jonathan as a PDP member; rather, we are supporting him as presidential candidate for next year's election because he has declared to run. Ohaneze is not a profit making organization.
Ndigbo and 2011
There is no way of knowing what every Igbo person thinks. But there is a way of finding out the popular opinion among the Igbo. It took us five and half months of consultations with various Igbo groups including the churches, before we arrived at the position that was made public. Four months ago, the Ijaw National Congress (INC) visited the executive of Ohaneze Ndigbo, and told us that they wanted us to support President Goodluck Jonathan; we told them that we were consulting the Igbos and we will give them feedback.
When we visited Bayelsa State, the INC leadership and Governor Timipre Sylva of Bayelsa raised the issue. He also solicited that we support Jonathan and we repeated to him that we were still consulting On the 14th of August, 2010, we had an Imeobi meeting of Ohaneze Ndigbo in Enugu and one of us suggested that Ndigbo support Jonathan and I told him that we will continue to consult Ndigbo at home and abroad until we feel satisfied what the majority of Ndigbo want. Some people said I should have called for an assembly of Ndigbo to discuss the matter.
But we reasoned that calling for an assembly would make it difficult to achieve the goal, because if there are 100 people attending the assembly, 90 people would say yes, and 10 would obviously say no. The next day, screaming headline of the newspapers would be that Igbos are not united. So we did not buy the idea of calling for an assembly. We consulted groups and noted what they told us. Towards the end of our consultations, certain senior Igbo people were invited to Enugu and K.U. Kalu hosted them. We all discussed this matter, and they also gave their position very clearly.
Some time later, the executive of Ohaneze Ndigbo led by me, and some other Igbo leaders, including former Senate President, Senator Pius Anyim and Professor Anya O. Anya, spent two days in Ebonyi where we had consultations with the traditional rulers. On the first day we met their caucus, the next day we met with the general assembly of traditional rulers in the South-East and the two meetings were chaired by Eze Cletus Ilomuanya, the chairman of the South-East Traditional Council.
When we told them of our mission, the traditional rulers said that they supported our position and asked us to go ahead. It was after that meeting with the traditional rulers that I issued a statement on behalf of Ndigbo, declaring the position of Ndigbo on Jonathan. So it is not true that Ohaneze Ndigbo did not consult anybody before making the decision. We have done the consultation that has produced a result for our people.
It is Igbo's that are sponsoring Ohaneze
This is not the first or second advertorial that Ohaneze has issued. The other statement of Ohaneze was also publicized, the same way this one was done and nobody accused us of being sponsored. It is those who disagree with us, who are looking for faults. Ndigbo are not paupers and neither am I starving. There are some Igbo men in business, who are very proud of what Ohaneze is doing and they have been helping out.
For example, I don't personally know the amount involved in the advertisement that many people are talking about. Some people are supporting it, but not President Jonathan or any government agency and that is the truth. Those who have been criticising that statement have not been able to pick one hole in what we said; they are only attacking my person and distorting facts. Some people are saying that they were not consulted, and I ask, those who signed an agreement with some northerners that Ndigbo should support them in 2011, so that in 2015 they will support Ndigbo, did they consult Ohaneze or the governors of the South-East?
On zoning
Talking about zoning, there are six zones in Nigeria. One has seven states, four have six states, and only the Igbo South-East has five states. But some people say Nigeria is zoned between the North, and the South and that is not true. We must correct that wrong impression. We have six zones, and that was why the late Yar'Adua was president, and Senator David Mark, also from the north is the president of the senate. It means that in 2007, until Yar'Adua died, the north was completely in control of Nigeria politically, with the two important political offices in the country, president of the country and the president of the senate.
Again, we know that in this country, things that come from the federal coffers are shared equally on state basis. That is already, a handicap for Ndigbo and we think and have always said that it is not fair.
In terms of local government that gets grants directly from the Federal Government, some states in the north have more local government areas than the entire southeast zone. I think that in terms of equity, Ndigbo have not got a status in this country, and it is important that adjustments are made so that every section of Nigeria, whether it is Igbo land or Yoruba land, will feel comfortable that we all belong and are equal.
I am not gunning for a second term
Ohaneze has a constitution, and the term of office of any executive is two years for the time being. But there have been complaints over the years saying that the two years arrangement is inadequate for any executive to do any meaningful thing. It was based on this that a committee headed by Professor Amuche Azi was set up, and it recommended two terms of three years, that is six years. This report was completed, signed and delivered to Dr. Ikedife but he kept it.
As we are talking, Ikedife has not given me an official copy of that report. I have asked him of it twice. I had to get a copy from Amuche himself; that is the only copy we have now. There are many people that believe that if Ohaneze will make an impact, the leadership should have time, to make certain projects. For example, one of my plans is to ensure that a proper secretariat of Ohaneze is built in Enugu. The architect's design and costing is completed, and time is needed to do some of these things. The truth is that it takes time to understand certain things before you do them.