EXPLOSION ROCKS DELTA GOVT HOUSE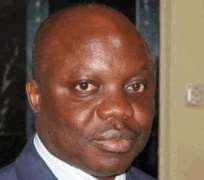 Gov. Uduagan
Panic gripped workers and visitors to  Government House, Asaba, Delta State yesterday, when an explosion rocked a guest house in the premises. The  blast  forced many of the Government House   staff  to desert their offices and ranaway for their life.
The explosion caused many of the government house staff to run for dear lives.
The explosion shattered the roof and walls of the VIP lodge.
The blast, which was said to have occurred at about 3:00pm however, destroyed property yet to be quantified after blowing off the roof of the guest house.
As at press time, there was no report of casualty. However, nobody or group has claimed responsibility for the blast. Men of the boºmb disposal unit have arrived the scene for investigastions. Daily Sun investigations showed that a group yet to be identified had allegedly issued a warning to the state governor, Dr. Emmanuel Uduaghan to stop mismanagement of the state resources failing which he would attract its wrath.
The unknown group, Daily Sun gathered also told Uduaghan to forget about his re-election bid or face unpleasant consequence. Shortly after the blast, it was learnt that security operatives cordoned off the premises. preventing journalists from entry. Workers feared that similar explosive devices might have also been planted in other areas in the government house.
The state Police Public Relations Officer (PPRO), ASP Charles Muka who was seen at the scene of the incident declined comments.   Reacting to the incident, the Chief Press Secretary to Governor Uduaghan, Mr. Sunny Ogefere confirmed the blast in the VIP lodge in Government House saying, the explosion occurred in a commercial outfit of the state government located near the government house. 'At about 3pm this afternoon there was an explosion at the Asaba Guest House Asaba, a commercial outfit of the Delta State Government located near the Government House. Two of the rooms upstairs were damaged from the impact of the explosion. There were no injuries and no casualties recorded.
According to the governor's spokesperson, 'security agencies have already moved to the scene of the incident and cordoned off the premises and commenced investigations to ascertain the nature of the explosion.'