Imeh Umanah Detained Over Threats To Apkabio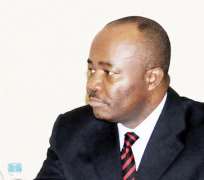 San Francisco, Nov 03, (THEWILL) – A businessman and foremost politician, Chief Imeh Umanah has been arrested by the State Security Service (SSS) operatives in Uyo, Akwa Ibom State following threat text messages sent to state Governor, Godswill Akpabio.
THEWILL gathered that Umanah alongside his godson, Ikemesit Iyire, who sent the messages to the governor's cell phone are being detained at the Nsikak Eduak Avenue office of the secret police.
THEWILL correspondent in Uyo reports that Umanah admitted that he instructed Ikemesit to send messages to Akpabio but added that he did not say the messages should be worded to threaten the governor's life. He also admitted to purchasing the sim card used.
Umanah, a former governorship aspirant in the state said he asked Ikemesit to warn Akpabio in the SMS's to desist from making statements that could plunge the state into chaos following the governor's statement that opposition candidates are not welcome in Akwa Ibom State.
The unedited threat SMS's as disclosed by the state Director of SSS, Mr. E. C. Minti read: "We would have welcome you governor Akpabio with the blood of one of your family from the trip but we will take our time and stab you where it will hurt you most.
"Our intelligence has confirmed you have just bribed Nwodo, PDP national chairman to manipulate elections in your state and frustrate northern aspirants. We know you as Jonathan's chief financier. Your speech at his declaration and subsequent utterances is a confirmation of how well you hate the North. I hereby on behalf of the North and Boko Haram declare our hatred for you and your household. Prepare your squad of kidnappers, you will soon hear from us."
"Is it a coincidence that the love ones of your political opponents are abducted and tortured, how will you feel if your wife suffers the same ordeal captain's wife is facing, the sexual humiliation the boys are putting her through just because he wants to contest against you. The wrath of Allah will not spare you when we strike, you infidel. You sold Ibori out, the North will ensure you face the same ordeal."
"You are not even ashamed your people are suffering in the midst of plenty. We are closer than you know. Soon you will also cry. May Allah punish you."