UK Authorities Seize £½ Million In Hand Luggage From Two Nigerians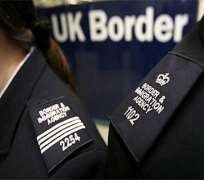 San Francisco, Nov 03, (THEWILL) – The United Kingdom Border Agency has confirmed that it confiscated more than half a million pounds in cash from 'two Nigerian men as they tried to enter the UK through Heathrow Airport.'
A statement emailed to THEWILL from the Home Office Press Office said: "Officers from the UK Border Agency discovered the money, which was in €500 notes and US$100 bills, when the pair were stopped as they arrived on a flight from Paris on Wednesday 20 October."
When THEWILL contacted the press office for the identity of the duo, a press officer we spoke to said the information would be released at a later date.
The statement however revealed that the men, "a father and son, claimed that they were traders in wine, spirits and cosmetics and they were going to use the cash, which they were carrying in their hand luggage, to buy supplies for their business.
"The money was detained under the Proceeds of Crime Act and will only be returned if they can provide proof that it came from a legitimate source," the statement said adding that "anyone entering or leaving the UK with more than £1,000 in cash may be asked to provide evidence for the source and intended use of the money or face having it detained." It said: "This is to prevent the money made from criminality being hidden in bank accounts or other assets overseas, and to prevent the theft of money from the public purse through unpaid tax." The authorities said: "At Uxbridge Magistrates Court on Friday 22 October the UK Border Agency was granted an order to hold the cash for a further four months while the investigation continues. "Earlier this year, the Serious Organised Crime Agency (SOCA) announced that the €500 note would no longer be available over the counter in the UK after evidence showed over 90 percent of UK demand was linked to criminality."
Senior Investigating Officer Ian Truby, from the UK Border Agency's Criminal and Financial Investigations team, said: "UK Border Agency officers are working hard at all our ports to prevent drugs, contraband or the potential proceeds of crime from entering or leaving the UK. "Where we suspect that cash may be linked with criminal activity we have the power to seize it, and it will only be handed back if it is later proven to be legitimate."
THEWILL gathered that following court orders any money detained is held for up to six months at a time while investigations are under way. It may then be ordered as forfeit and returned to the public purse if shown to be associated with criminal activity.
UK Border Agency officers between 2009-2010 seized £11.9million from passengers at ports across the UK.