JONATHAN ON FACEBOOK, URGES NIGERIANS TO SHUN TO DO OR DIE ELECTIONS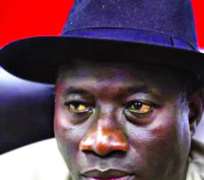 While his opponents in the Peoples Democratic Party (PDP) are saying heavens would fall should the party not respect the gentleman agreement reached that power must remain in the north in 2011, President Goodluck Jonathan has chosen the social network, Facebook to urge Nigerians to bide farewell to do-or-die elections.
On the latest postings on his site, Jonathan said he was preparing the minds of Nigerians ahead of the coming months, warning them to be aware of some persons who are willing to hit below the belt in their bid to occupy the highly coveted position of leadership.
While reiterating that the 2011 elections was not about him but Nigeria and the future of her great citizens, Jonathan thanked millions of Nigerians who have formed movements to support his success come 2011 since his declaration of September 18th, adding that the Presidency of Nigeria was a national and treasured asset and only God and the people must decide who leads the project of protecting and advancing her interest.
Citing the US example, Jonathan reminded Nigerians how some persons tried to make Americans afraid of President Barack Obama while campaigning for the exalted office because they were afraid of change. He regretted that desperate people have turned to doing despicable things all in a bid to make voters afraid.
The posting reads: 'Dear friends and fellow compatriots, as we approach the 2011 elections I want to as a responsible leader prepare your minds for the coming months and what to expect. The leadership of any nation is a highly coveted position and more so when that nation is Nigeria, the largest black nation on earth and so richly endowed with human and natural resources. As such, as the competition as to who becomes President in 2011 gathers momentum, it is to be expected that some persons will naturally begin to be dangerously anxious to the extent of hitting some of us below the belt. For me, I care not about my personal safety, it is the safety and security of our citizens with regards to our age long aspirations to development and advancement that must be of concern. This election, I have said again and again is not about me, it is about Nigeria and the future of her great citizens.
'I first notified you my friends on facebook of my intent to run in the forthcoming Presidential elections. Thereafter I proceeded to formally declare my interest to all Nigerians of my intention at the Eagle Square on the 18th of September, 2010. Since that declaration, millions of  Nigerians around the world have formed citizens movements to canvass support for me. I want to say thank you to all Nigerians cutting across corporate, community, governmental, traditional, civic, youth and labour levels and various peoples movement, for your show of love and support. Expectedly the large following has also made me the target of lies, smear campaigns and innuendos. It is true that I do not own or have an interest in a newspaper, radio or television station and therefore my capacity to respond may not be as robust and swift as those who control these mass media however, I thank God that we have men and women of conscience who also work in these media institutions who love Nigeria and can do what is right. I thank them for towing a different path away from the hurricane of negativism in the polity.
'I was told that election time like these are moments when desperate individuals do desperate and sometimes despicable things to make you-the voters-afraid. In other climes they tried to make Americans afraid of Obama because they want to stop a change whose time has come. By my nature and upbringing, desperation is not one of my credentials. The Presidency of Nigeria is a national and treasured asset and only God and the people must decide who leads the project of protecting and advancing her interest', he said.
The urged Nigerians to ignore falsehood  that he is using improper means to curry favour from PDP delegates or that he is funding his campaign from government funds.
'So when you hear or read falsehoods  that I am using untoward means to curry the favour of PDP delegates WHO HAVE NOT EVEN BEEN ELECTED OR IDENTIFIED or that I am funding my campaign from the Federal Government Purse  and such other stories that enter the fertile minds of the mischievous you must know that their desperation is getting to fever pitch levels and their project of self-agenda is ready to anchor on the harbour of the-more- of- the same. We must not allow them to confuse the issues  that are of concern to Nigerians: Proactive peace and security; Major reform in Agriculture that would empower farmers and make food available so that no child in Nigeria can go to bed hungry; Available, accessible, affordable electric power to power our idle industries and create jobs; Niger Delta Development so that the many decades of strife in the region can be brought to a peaceful and happy end; Improved quality education that will be anchored on science, technology, innovation and a revitalisation of our cultural and literary resources. We must be concerned about fighting corruption with additional emphasis on enhancing transparency and accountability and focusing attention on addressing the housing needs of our people and growing the solid mineral sector and investment in road and transport infrastructure to wean us of our over dependence on oil and gas. I am not and will not be interested in the gutter fight of blackmail,sectionalism and promoting regional interest over national interest.
'Therefore, I want to appeal to you my friends that when you hear or read of attacks on me or any other candidate, please be patriotic enough to resist the temptation of joining them to trivialise the presidential race. I urge you to very gently ask the purveyors of such fanciful tales of degradation to rather tell you about their plans for Nigeria as I have done. If they have plans then they ought to run on them.
If they do not it means that they have none and it is trite knowledge that those who have no plan, plan only to fail and Nigeria and Nigerians in whatever conditions are no failures!
'So dear friends and fellow Nigerians, as the race heats up I promise you I will remain steadfast and continue to work for our country and fulfil my promise of 'promising less and delivering more'. All uncompleted projects in the power sector will be completed and commissioned; all projects that have a direct bearing on your lives and those that of fundamental importance to steering the ship of state aright towards the destination of unity and greatness will be sustained. I want to earn your vote not through mudslinging or blackmail. I want to earn your vote through performance and the realisation of a promise that through me every Nigeria regardless of circumstances of birth, state of origin, parental background, access to power and money can contribute his or her little quota to the unity and progress of our beloved Nation', he said