Nigeria Must Not Disintegrate - Jesse Jackson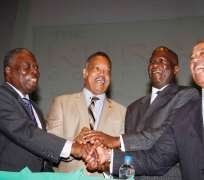 LAGOS, Nov 02, (THEWILL) - United States civil rights activist, Rev. Jesse Jackson today told a gathering of Nigerian leaders at the international colloquium on Law and Development held in Victoria Island that Nigeria should not be allowed to disintegrate.
Jackson, who recounted how the United States grew from being a country of white supremacy as a matter of law and culture to a country of black and white working together equally, praised the effort of the country's past leaders in ensuring the freedom of other African countries.
He urged the current leadership of the country led by President Goodluck Ebele Azikiwe Jonathan to put up a good fight against corruption and all forms of sharp practices capable of retarding her growth and development.
Jackson said many nations of the world "are planning to carry out comprehensive global investment to guarantee sustainable development. Nigeria which ensured the freedom of other African countries from the oppressive rule of their colonial masters should not be allowed to disintegrate."
He traced Nigeria's problems, Africa's most populous nation to corruption and greed of its successive leaders, saying all hands "must be on deck to stop the menace. Nigeria is too rich for any of its citizenry to be poor. The people and leaders of Nigeria must rise up immediately to fight the scourge of corruption."
According to the American civil rights activist, "we can do it. We can stop it because corruption is indeed a crime against humanity. Nigeria is so rich yet her people are so poor. We must fight in a big way. We must fight corruption and poverty. Fighting corruption is crucial to fighting poverty," Jackson added.
Also at the conference, Nobel Laureate, Professor Wole Soyinka said he is writing a play, which he said would expose the new paradigm of corruption in the country and the threat it poses to the nation's future.
Soyinka urged the country's civil society and general public to wake up and put their leaders on their toes, noting that endemic greed and vampire tendencies of African leaders can ruin the continent.
Photo: L-R: Professor Wole Soyinka, Former Attorney General of the Federation, Chief Bola Ajibola and Reverend Jesse Jackson.
On his part, Lord Paul Boateng, who was a plenary speaker at the conference, said though corruption is a global scourge, it could be tackled by the people affected. He therefore called on the civil societies to rise up to their responsibilities as enshrined in international chapter to which Nigeria is a signatory. Boateng said civil societies should be in the forefront of fighting corruption and other vices across the globe. According to him, the vision of the nation's past leaders must be kept alive by imbibing salient virtues geared towards people-oriented development.
Speaking earlier, Lagos State Governor Babatunde Raji Fashola (SAN) said the Kuramo conference is a response to his belief that the African continent must evolve a global new legal order that would make the world more inclusive to secure it for the next generation.
He said: "Kuramo seeks to provide the platform for the best minds to examine the existing legal order for trade, finance, and exploitation of natural resources, protection of the environment, global peace and the dignity of the human race."