Jonathan Reconstitutes NERC Board; Senate Confirms Adedoja As Minister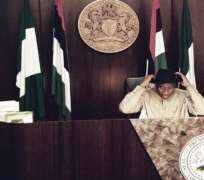 ABUJA, Nov 02, (THEWILL) - President Goodluck Jonathan has reconstituted the board of the National Electricity Regulatory Commission (NERC) with Dr Sam Amadi emerging as Chairman designate.
Also today, the Senate screened and confirmed the nomination of Professor Taoheed Adedoja as a Federal Minister.
In a letter to the Senate to that effect, President Jonathan sought the Senate's approval and confirmation of new board members for NERC. They are: Alhaji Mohammed Bello, Vice Chairman, Eyo Ekpo, Ibrahim Amia, Engr. Emiola Awolokun, Mr. Patrick Umeh and Steven Andzinge.
However, Adedoja, whose nomination was sent to the Senate by President Goodluck Jonathan last month was subjected to about an hour of questioning at the plenary.
Adedoja, who is currently a serving as State Commissioner for Education in Oyo State, replaces Mr. Remi Babalola who resigned from the FEC in August.
Answering questions from the senators during the screening exercise, Adedoja blamed students' poor performance in NECO and WASCE examinations on the negligence in the country's educational system.
He said the national policy on education should be constantly reviewed to bring it in line with current realities.
Adedoja said the spate of workers' strikes in the nation's educational sector should be a cause of concern for policy makers in the country.
For instance, he said in the past ten years, the school system in the country, primary, secondary and tertiary, witnessed 71 closures as a result of strikes either by lecturers or oil workers that paralyzed all vehicular movements.
The renowned educationist also blamed the care free attitudes of most parents for the fallen standards of education in the country.
"Today, parents care less about the academic performances of their wards", he said.
On the disintegration of the public school system in the country, Adedoja lamented the infrastructural rot and inadequate welfare package for teachers.
He said: "Statistics have shown that government institutions have the best qualified staff in the country, what they require is adequate infrastructural facilities and welfare packages".
He said as much as possible, government must ensure the provision of scholarship awards for students, stressing that "anywhere in the world, scholarship is the key to educational advancement."
Adedoja added that in Oyo State, scholarship scheme, which had been stopped for over 23 years, has now been restored, adding that 800 students of the state origin are now enjoying scholarships at various stages of their academic endeavours.
Answering a question on terrorism raised by one of the senators, Adedoja said Nigeria as a country has never been and would never be involved in terrorist activities, pointing out that the Mukhtar Abdul Mutallab incident on Christmas day last year was an isolated case.