KIDNAPPERS ARE NOT LAZY PEOPLE, SAYS CHIGOZIE, YOUNGER BROTHER TO LATE CHIMA UBANI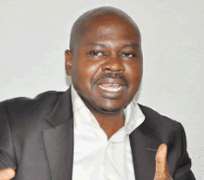 Ubani
Chigozie Ubani is the Convener of Ibeme Redemption Forum (IRF). He hails from the Community in Ukwa-Ngwa Area of Abia State where the four journalists and a driver in July 11, 2010, were abducted and held hostage for ransom. While in Lagos as at the time of the event, Ubani was one of those who worked closely with the local media and members of the other Security Agencies for the release of the journalists. Ubani who is the younger brother of late Chima Ubani of Civil Liberty Organization (CLO) spoke to Daily Sun on this and many other issues. SIMEON MPAMUGOH spoke to him in his Ikeja office in Lagos Excerpts.
As the convener of Ibeme Redemption Forum from the community. What roles did you play towards the release of the four journalists and a driver?
Let me correct the impression. I come from the community. I am an indigene of that community. I reside in Lagos. I was not in the community when it happened. Of course, an event that took place in my community, I couldn't feign ignorance of what was happening. So we worked closely with our colleagues in the media and also played some important role that sure led to the release of the journalists contrary to reports that they were rescued.
The event challenged the indigenes of the community to take a closer at what has been happening which we, as a people have complained over the years to government that what we saw at that time could degenerate into a bigger crises. But we were ignored until it got to a point where everybody is now aware of it. Truth remains that before the journalists were kidnapped, a lot of other people namely: businessmen and professionals have been kidnapped and ransom paid. But when these journalists were involved, the whole world came to a stand still and that drew the attention of everybody to that environment.
We understand that the kidnappers are being funded by politicians in the South East who use them as vendetta against opponents. How true is this statement?
There is iota of truth in that assertion. I would not say, they are being funded to maintain the industry of kidnapping. I am aware that some top level politicians within the area recruited these boys for the purposes of assisting them during elections. The unfortunate thing that happened over the years is that, after these boys have been used for the purposes for which they were recruited they were abandoned and the arms which of course you and I know are property of federal government were left in their hands for them to go fend for themselves. Because when a politician wins or loses an election he goes either to his house or to the government house. So which ever house he goes, he cocoons himself there and ceases to relate with the boys.
The guns for which they have assisted the politician in doing his job are left in their hands because it cannot be retrieved from them. What do they do with it? Go out to fend for themselves with the same gun. What I can say in the final analysis is that politicians are accomplices in the recruitment and development of this monster we have in our hands now and as elections approaches we are also aware that certain contacts are being made on how to use them again. But the idea of stepping up action now is to stop this and let the government know that we cannot continue to use these boys during elections, and after elections we began to cry wolf that criminals are harassing us.
Feelers reaching us indicate that there were negotiation and recommendation made between the kidnappers and government by Ibeme Redemption Forum (IRF). How far reaching are these?
When we had this challenge in our hands especially with that of the journalists, the whole community was being dubbed as a community of kidnappers and arm robbers. And we said, it couldn't be true. The challenge thus is to go and reach out to people we think are part of this gangs and believe me, I can tell you that I was amazed, and overwhelmed with the quantity and quality of fire arms and sophisticated weapons that were found in the environment. A lot of them where aware that the latest releases of AK47 and other riffles are in those communities and in the hands of uneducated youths. I am aware that rocket launchers and grenades are in those places. Not in anybody's hopes, but however they do their thing; when they need them they come out with them and use them, we do not know. We are trying to dissuade them. Of course, it is not easy to discuss with a man who has fire arms, who have allegedly killed several people.
It wasn't easy but in the end we try to reason that: if one cannot drop his gun, what does one think can be done? A lot of them say fine, if they could be incorporated into the existing Amnesty programme of the Federal government that they would have the confidence and believe that they can walk around free again. But why we look at that as an exclusive prerogative of the Federal government is that we are not ignorant of that fact. We are saying however that if that could be considered, it will go along way because over the years, the option of meeting them fire for fire has failed. Each time government goes into the community with their security agencies: one a lot of our security personnel are accomplices because a lot of information comes out from the security circles to these boys. They also have access to information. Once you want to storm the community, they have information that something is being planned.
They know how to take cover, we say; having exhausted this fire for fire approach and it is not working, it is time to take a look at a more humane option. Firstly, what caused it? We all know that ransom kidnapping is an economic crime. I cannot remember where a nation has fought an economic crime with a fire for fire attitude. At certain point negotiations go into it. There is nothing wrong with the legislation being pushed on how to meet this with death penalty. I have no problems with that but I have a problem with how to deal with teeming army of youths that have gone into this already. Right now, there are well over 300 armed youths in Ibeme community and its environs. And that is not a joke.
If you go further, you find out that most of these boys are without primary education, because Ibeme community is a place where you don't have functional primary school, secondary and university. There are no electricity and access roads. So, indigenes live like aborigines, yet we are 15 kilometers away from Aba town. And if you have forests where nobody has access roads for 100 years, those forests can become safe heaven for criminal activities and den of hoodlums. What we are canvassing in essence is that rather than continue with fire for fire, with visionary government in the first place, we would not have had this problem on our hands.
These nuisances, of the society could be tapped into, and their nuisance values converted into productive workforce of the country. What we are telling government at this juncture, is that we can get rid of those who will come after this by giving these ones a soft landing pad through getting them into camps just like the precedence set in Niger Delta: get these boys out, train them and convert them into workforce of the nation. And those who will engage in kidnapping after these set could be dealt with ruthlessly because they have had the opportunity of the amnesty.
Those who embrace it now should be pardoned and rehabilitated. Kidnapping though is a crime that impinges on human freedom and sacredness of human life. It is man's injustice to man. But we also saw what happens in South Africa. After the white maltreated blacks for over 100 years, President Nelson Mandela emerged and moved for peace and forgiveness. We can still do same for these youths and deal with whoever would want in future to carry out this kind of dastard acts. This is the way, we are looking at it. The basis for this amnesty is that, we as leaders and government created the environment for the crime.
It is difficult to factor unemployment as a reason why kidnapping is thriving in South East as these boys can acquire a skill to better their life. I think they have suddenly become lazy…
A lazy man cannot go into kidnapping. If one knows what violent crime is all about, one will understand that it is not for a lazy man. It takes a lot of calculations, energy, dexterity, risks, and imagination; on how to carry arms, use drugs like Indian hemp, cocaine, heroine etc as well as training on marksmanship. And also determination to chose either life or death in the process. All that is not a lazy man's thanking. It also requires the courage to come on the high way in whatever form, stop a moving vehicle, take its occupants safely to a hiding place and begins to make threatening phone calls and at the same time safely keep the kidnapped with a tab on his psyche and that of his people to part with ransom (money). When one does a check on the intrigues, one should be able to understand that kidnapping is not a lazy man's business. The fact remains that the socio-economic condition of their environment has only encouraged negative activities.
When one takes a look at what God did on the biblical account of creation, the first thing he did was create light. He was not ready to put man in activity that will take place in darkness. So if I am talking about a community that does not have electricity yet it is 15 kilometers away from Aba town, and these boys go to town and see people drive around in big cars, and coming back to the community, there is no connection between their environment and the state: there are no primary schools, which is the stepping stone for everyone in Nigeria's leadership today, you will understand what I mean.
It is unimaginable what our leaders would have been without primary school. And parents who should have provided that for these young people lost their jobs in the Textile Mills, Breweries and all the companies that were thriving in Aba many years ago. When a set of parents lose their means of livelihood, what it portends to the young children is: go out and fend for yourselves!. A father who cannot be a breadwinner cannot play mentorship role on his children. It is a very sorry situation. In fact these boys are not lazy; rather we have had lazy leaders in government houses. People without idea of governance. South East is beyond a geo-political zone.
It is a massive industry, an average Igbo man is a restless industrialists and entrepreneurs. This is why we always look for where to build industries wherever we go. But if the environment is not good and conducive, we begin to build negative industries. If the environment is conducive and encouraging, one will see an Igbo man blossom like flower in enterprise. So these bootlickers who came into government house without clue could not sustain the industrial growth of the South East from Independence. Industrial estates like Ariaria - though people think Ariaria is a market, it is not, and it is a huge industrial estate meant to generate revenue for Abia State. It was shot down because its access roads collapsed. As we were degenerating in security, those industries that were feeding the West and Central Africa with leather work, fabrics, shoes and bags were all liquidated and some relocated for insecurity and bad road.
The point I am making is that leadership failed Nigeria especially south East because we had no visionary leaders in the area. If we had it, Nigeria could be collapsing, while South East is thriving. Today, Lagos State has been so lucky to the extent that even when leadership is so bad in every other part of the country, Lagos State has been privileged to have someone who can take them a step further than it was. What Tinubu did for Lagos state and its manifestation by Barrister Babatunde Fashoola (SAN) has made Lagos tourists destination point. If these fellows had ran Lagos State aground the erstwhile Governor of Abia State who spent 8 years in office would not have liked to live in Parkview, Victoria Island. If leadership in the South East should respond to its functions and expectations, you will see that people will begin to migrate to the zone.
And whatever business I do in Lagos State could be replicated in my community or nearest town to my community. The South West Radio air waves today are jamming because every radio and television station wants to remain in Lagos. From Lagos to Ogun, down to Ibadan, the frequency right now is jamming and getting license to operate in Lagos territory is almost impossible. But let one seek for radio license to operate in Abia, one will be given almost immediately because there are no private radio and television stations there. What has government been doing that it could not have encouraged investment in the state. When Abia State was being carved out of former Imo State, a lot of people thought, Imo was gong to collapse. They could not imagine how the state would survive. But today the rest is history, the same thing with Ebonyi state , these states have not only survived, their leaders have plotted project graphs and executed them to the delight of their people. What we have in the South East in terms of under development is as a result of miss-governance.
In the course of your interaction with the youths. What feelings did you gather from them as reasons for Involvement in kidnapping?
It is rather unfortunate that youths of South East because of the environment turned into kidnapping for ransom. This issue of kidnapping was alien to our environment until the Niger Delta crises started. Kidnapping as we have it today started from Niger-Delta. But what happened was that the political leadership in Niger Delta buckled up and rid the area of criminality.
Albeit, it was about criminal activities: bomb oil installation, kidnap people including kit and kin and money paid in ransom. However, the political leadership in the area and activists stepped in and stemmed it, by re-directing the focus on economic emancipation of the territory. So the struggle turned out and more so, because Niger Deltas have sizeable control over the media in Nigeria's. They were able to use the media to their advantage with a view to keeping their focus. And that is why federal government today could budget several billions of naira to deal with amnesty and rehabilitation in the area. Unfortunately for the South East, our political leaders were the same people who have had to recruit these boys for elections purposes.
Briefly tell us why in your view, a young and ebullient gentle man could not use his God given abilities for the betterment of his society rather prefers to torture his fellow human being, through kidnapping?
Kidnapping again is an economic crime. Walk up to the drug dealer or peddler and ask him: why are you doing this? He wants money. He wants to eke out a living because nobody gave him an alternative. Whatever he had in his hand as a means of livelihood has been take away from him. So we are dealing with an economic crime. And until we deal with the socio-economic issues of our society, it is likely to continue because the gap between the have and have not has been extensively widened. Take for instance, a man who has no primary education watches another who has university education. After spending six years in primary school, another 6 years in secondary and 4-5 years in the university, he could not find a job. How then would you want to encourage the man without primary education to go to school that is not in his environment?
He sees a counselor, or local government chairman who he knew very well was nobody and suddenly he is elected (selected) into office and soon after, he is buying houses, riding cars with tinted glasses, how again do you want to encourage him to go to school. You know, it is every 4 years elections are held. And it is not opened to everybody. Another man underwent apprenticeship and at the end, he could not raise fund to start up. And the one who picks up a gun, hijacks and kidnaps fellow human being and in few days Millions of naira is paid as ransom and he makes it quick. Why do you think he, the uneducated man, would not want to take the risk? There is no point asking, because a lot of them are people without conscience. Many of them cannot decipher why they are involved in kidnapping except by a divine visitation. Many of them have shed blood and are thirstier for blood.
Ukwa west and Ngwa in Abia State are the deep troubled area predominately affected by militancy and kidnapping. An average Ngwa man is known for industry and hard work. Why the sudden drift in the value system?
Bad governance! Why has it come down to Ngwa man? If you remember the days of the former Governor of Abia State who hails from Bende Local Government area and the former Deputy Governor of the state who is now a Senator of the Federal Republic of Nigeria, they had this protra