Relocation Of Ministries To Lagos: Ignore Daily Trust – Presidency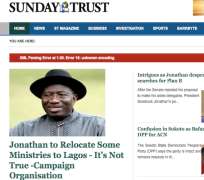 ABUJA, Oct 31, (THEWILL)- The Presidency today denied allegations that some Federal Ministries will be relocated to Lagos to decongest capital city Abuja. The denial is sequel to reports carried in today's edition of Daily Trust, a local daily.
Spokesman to the President, Ima Niboro said Daily Trust took newspapering to a new ridiculous extent with a claim that President Goodluck Ebele Jonathan is to "relocate some key ministries to Lagos."
He said the newspaper woefully failed to provide insight as to why such a decision might be taken, beyond hinting that it is a move to "decongest" Abuja.
"It is amazing that any one would want to decongest Abuja by relocating to Lagos, reputedly one of the continent's most congested capitals. It is indeed inconceivable that a Nigerian newspaper can contemplate such an odd story," Niboro said.
"This is to urge the general public to ignore this silly tale. It is only packaged to whip up sectional sentiment and serve the ends of political paymasters."
Niboro however said the effort falls flat on its face in view of abundant evidence that the Jonathan administration is committedly expanding the nation's capital, opening up new areas and linking up existing ones to make Abuja a true home for all Nigerians.
"This is another Daily Trust "exclusive" that is an outright lie; one more scoop that never was. Such tales are meant only for garbage dump," he said.