PDP Primaries: I Won't Bribe Anyone - GEJ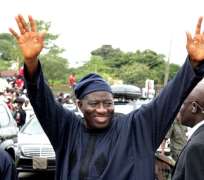 ABUJA, OCT 28, (THEWILL) - President Goodluck Jonathan today said he would not bribe anyone to clinch the coming PDP Primaries because of his wide acceptance across the country.
The president's spokesman Ima Niboro said the attention of the President has been drawn to a report published online by Global Information System (GIS), a private independently run research group of former United States Military Strategist, alleging that he plans to bribe yet to be identified PDP delegates with $13, 000 in cash from Federal Government funds to influence his widely anticipated victory at the PDP primaries.
He said the story itself explains its source, in a desperate campaign of calumny to portray the president in bad light and pre-judge the outcome of the forthcoming PDP presidential primaries, in which he is evidently the man to beat.
"But if it is about calumnious material, then there are others who have more to fear, including rattling skeletons in dusty cupboards, than President Jonathan would ever have" the statement said.
He further said that in spite of this, the president in pursuit of fair play and an impartial contest, has urged all his aides and supporters to stay away from the line of calumny, adding that there is hardly any need to ruffle feathers since he would need all the other contestants when, by the grace of God, the president wins the primaries in a fair and square contest.
"We advise purveyors of these repugnant stuff to desist forthwith, for it is indeed a game two can play! We only desist in the interest of peace and our avowed commitment to fair play.
"Others must need fully emulate the candour and uprightness of the president and step back from the path of willful malice and character assassination.
"The president is confident in the power of discernment of those who will emerge as PDP delegates, and as such does not require to pay any one, least of all from the public till, for his or her vote," Niboro wrote.
He said Nigerians know the masters of governance by settlement and it is definitely not Jonathan.