STOP DROPPING MY NAME, BUHARI TELLS NORTHERN POLITICAL LEADERS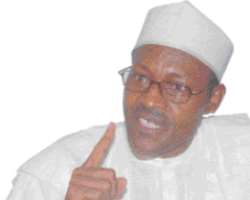 Buhari
Former Head of State, General Mohammadu Buhari has alleged that some chieftains of the Peoples Democratic Party (PDP) in the North are dropping his name to seek relevance in the ongoing move for a consensus presidential candidate within the party.
In a statement issued in Abuja yesterday, the presidential aspirant on the platform of the Congress for Progressive Change (CPC) said though he was not opposed to any move to adopt him as a candidate, he was opposed to undemocratic means as the ongoing efforts at consensus candidate connotes.
In the statement signed by the National Publicity Secretary of the CPC, General Buhari said 'If the entire North decides to adopt our leader through a democratic process, which he so deserves, so be it. However, our problem with the current arrangement by some northern PDP leaders is that it is entirely PDP affair. The approach is also undemocratic.
'Gen. Buhari and indeed the CPC's position has always been that we do not believe in an exercise that is undemocratic and contrary to the rules of internal democracy. This is why we always kick against zoning and the most recentconsensus. In our party, the issue of internal democracy is very near and dear to our heart. In all our activities, we are mindful not to create grievances among our members and committed to treating all members with fundamental fairness; an equity component of our motto.
'To establish the foundation for internal democracy in our party, we recently launched a new drive for membership registration exercise which is fundamental in positioning CPC for victory in all tiers of government in the upcoming 2011 elections and provide a level playing ground for all aspirants.
'The truth is that we cannot achieve genuine democracy through random acts of political bravado and wizardry of a few individuals. Arbitrary maneuvering by a few well-meaning people cannot also bring us the democracy we desire.