2011: I'VE BEEN ZONED TO EFCC – ADAMU, FORMER NASARAWA GOV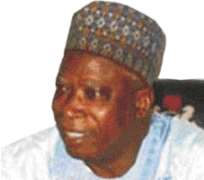 Adamu
Former Governor of Nasarawa State and Presidential aspirant of the Peoples Democratic Party (PDP) in the 2007 party primaries, has said that politicians have a moral duty to honour agreements they reach with people. Alhaji Abdullahi Adamu who is presently aspiring to the Senate, said that he decided not to aspire to the office of the President this time because he has been zoned to the EFCC over charges that he is yet to understand the motive. In this interview, he bares his mind on a wide range of issues.
Excerpts…
What are the challenges facing the agricultural sector in Nigeria? We can no longer see the groundnut pyramid, Cocoa and all that in Nigeria any more.?
People are surprised that you are not contesting for the presidency like you did in 2007. What happened?
I have been zoned to EFCC, I have been zoned there, I am in court. I am contesting but you won't say that if I am not in court my attitude to the election and the political environment will be the same, you understand; but the moment somebody somewhere is wanting to walk on your integrity, is wanting to walk on your image, is wanting to work to dampening your enthusiasm. I mean I am human, you don't behave as if there is nothing happening.
Something is happening.
There are people that corruption is not enough word to describe them but they are on the streets of Nigeria. I say corruption does not qualify them, they are still on the streets, nobody is trying them, nobody is doing anything about them but we are here.
Meaning you have zeroed your mind off 2011?
I don't know, I am contesting election into the Senate. If you are not aware of that, then you are not in Nigeria. You must have seen my billboards in Abuja here.
Why are you contesting for Senate now when you had an eye on the Presidency in 2007?
EFCC has no right to deprive me of my destiny; EFCC has a right within the laws establishing it to investigate me while I was a public officer and if they find reason to prosecute me, let them go ahead. For it remains a mere allegation whenever they decide to prosecute me and until a Court of competent jurisdiction finds me guilty, I am as innocent as you.
Why are you no longer contesting the presidency?
To be honest with you, presidency is not just about taking a plunge into the swimming pool. Normally, when you go to swim, if you are clever, you put your feet, dip it in and feel the temperature of the water. I don't believe that it is like a birthright to contest
. Circumstances made me withdraw then and I don't see anything different then from now and I want to contest for something that I think I can make waves, I can make positive impression so that I can in a very humble way make my contribution to the development of this country. I am still committed to service and I believe I can serve in the Senate. At the time I contested, the atmosphere I thought, was right for me to contest.
I contested while I showed the interest to contest and two or three days to the convention, I read the writing on the wall that something was going to happen. I was not going to have a fair treatment in the congress or convention and I threw in the towel. This time, the circumstances are different and I don't just feel the same heart beat to contest for the presidential race and I am going to the Senate by the grace of God.
There is this controversy over which of the presidential contenders you are supporting and why? Does the zoning policy of the PDP and where a presidential candidate comes from really matter?
To be honest with you, I am one of the founding fathers of this party PDP; I was privileged to be elected on the platform of PDP in Nasarawa State as governor for eight years. I have served Nigeria for those period; I am grateful to God, I was a Minister of the Federal Republic, I thank God for that. I believe that there is something I can still offer but whatever I do in my life, I believe there is something called honour and there is something called morality in it.
People think there is no morality in politics. One of our elders from the Southern part of the country, I don't want to mention his name once told me in the year 1979 before the elections in the days of NPN, I was Secretary of Plateau State NPN then. He said to me politics knows no honor and honor knows no politics. I looked at him and said sir; I don't believe in this, I believe there must be honor in what one does. If there is no honor in it, it is not worth your while okay; so I believe very strongly, there were some days back or some months back, there was a publication of all the stories and history of zoning and all these and if you take a look at that publication, the details are in there for everyone to read and appreciate.
I was there, I took part in it, I made contributions in it and it was published. I am honour bound, morally bound not even because of the fact that I was part of an agreement that I appreciate but there is time for everything and politics is the art of the possible. So, I am waiting to see what Nigerians say and what plan they have for 2011. But there is also a saying in my religion that every people get the kind of leadership they deserve. Every people get the leadership it deserves alright? So let us strengthen up as a people. Nigerians must have a leader from among Nigerians; no angel will come and rule Nigeria you understand. So if Nigerians are a people of morality, we will get a leader with morality to come and lead us, if we are, it will surely show in our attitude to life, I think we expect one of us to come and lead us.
All of us are involved in this zoning wahala, when it started all of us went into the PDP constitution. Everybody claimed to have attended the meeting. I am sorry, look I don't want us to be involved in that pointing game. You the Nigerian press are the most guilty of this offence.
Why is the press guilty?
Yes because there is nothing that is happening that is new. What happened in 2003, you were part of it, you saw it, you reported it and some generation of pressmen in that era are still alive. Why don't we look back into the archives and why are you not saying it as you said it before? Why are you not reporting what you reported before?
You were at the declaration of former military President, General Ibrahim Babangida
(Cuts in) I attended the Babangida's declaration, I attended Jonathan's declaration, yes what is your question?
I didn't know you attended that of Jonathan. Did you attend that of Atiku?
Atiku did not invite me. I wasn't there because I wasn't invited.
Which of the aspirants are you supporting?
Whether I am supporting Babangida or I am supporting Jonathan or Babangida. Well at the moment I want to say the candidates are not all out yet, they are not all out yet.
Even when they have declared and picked nomination forms?
What makes you think that I may not change gear and declare myself, after all the goal post for the primary has been shifted, what makes you think I may not shift my goal myself? I am studying developments.
What do you make of the quality of the campaign so far?
The quality of the campaign so far has taken a new dimension particularly with the unfortunate bombing issue which came and has done a lot of damage to the whole spirit of the campaign. It's most unfortunate. That was not to be expected in a very major event on such an important day. It is the first experience Nigerians have had since independence, 50 years of independence. For anybody to choose our independence, golden jubilee to carry out that dastardly act, one expects that we will as a people come together to celebrate the country. No doubt about that and I am not surprised about the response of people.
Do you support the proposed amendment to the electoral act that is currently before the National Assembly?
I will hold my breath until I see what they are proposing first. I haven't seen the proposal in its entirety. You see they are blowing hot and cold at the same time. They said at one time that the decision was sacrosanct, it was final, there would be no movement, it shall be January, everything. Now we are samba dancing, until we hear what they are saying, it would be premature for me to respond to that question. My father always said to me, when you are walking in a forest and you hear some movements by your side and you have only one stick in your hand, don't be quick to throw the stick.
Are you hopeful that 2011 elections would go on successfully?
I am a patriot, I believe in Nigeria and the belief in Nigeria is like a military barrack; soldier come, soldiers go and the barrack will stay there.
Honestly, we are living in two different worlds; they are two very important questions you put in one. One, the issue of the fact of the reference being made always to the days when we had the pyramid, cotton, cocoa, rubber, oil and now that such companies are no more and then what is the main problem or problems of the Nigerian farmer. I think those are the two dimensions to your question. I take the problem of the farmer first, the lean problem of the actual producers of agricultural produce today in Nigeria is limited in capacity, that is knowledge, the right education to know what crop on what land on what kind of soil.
To know what kind of seed, to know when to plant, to know how to plant, to know how to harvest, to know how to store and to know where the right market and what is the right price. These are elements that are essential to a successful agricultural operation, these elements are still wanting; they are still very limited because the farmer to date has limited education on how to get the best of these elements.
Two, the farmer has got very limited capacity to finance his operation meaning if you have just half a hectare of land, that is one football field of land, he has no money to buy fertilizer. The real farmers, the persons who are really feeding this country today have no fertilizer. They depend on government import of fertilizer. As I am talking to you, there are some parts of the country that have not gotten fertilizer for this year's planting seasons. That is a massive problem for agriculture.
Inputs, other inputs, insecticide, pesticide, the farmer hasn't got the money to buy as at when he requires it.. If you want to have water twelve months a year on your farm, you have to do a dam and how many Nigerian farmers have got the resources to do that on their farms. He has to do basic irrigation. Now all the methods of irrigation are not encouraged, they have gone jingo. Very few are existing because we have not sustained and developed what is very traditional.