EXPLOSION ROCKS BAYELSA, AS MILITANTS ATTACK AGIP PIPELINES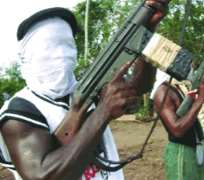 The peace deal between Niger Delta militants and the Federal Government, culminating in the amnesty exercise was yesterday shattered with an attack on an oil facility belonging to Nigeria Agip Oil Company (NAOC) located at Osiama, Southern Ijaw Local Government Area of Bayelsa State.
The attack has already forced Agip to shut down the 60,000 barrels per day (bpd) until the conclusion of investigations.
Though the identities of the attackers are not known, reliable sources said an ex-militant leader is being fingered as being behind the attack. Also, security sources said two explosives were used to blow up the pipeline, which link the Osiama field to Brass terminal.
The attackers, who were said to have invaded the facility in the wee hours of the morning, blew up the pipeline and disappeared without any traces.
Checks indicated that the attackers were able to carry out the act because there was no military presence in the area.
An impeccable source said security agents had swung into action, investigating the motive behind the attack. He also said they also do not want to leave any stone unturned, as there are strong indications that some armed groups are planning to unleash violence in the region.
According to the source, Henry Okah, the leader of the Movement for the Emancipation of the Niger Delta (MEND), who is currently standing trial in a South African, is believed to have re-armed some groups in the region to show his displeasure with the amnesty exercise of the Federal Government.
Investigations revealed that the attack on the Agip facility has prompted authorities of the Joint Military Task Force (JTF) to beef up security around all oil installations in the region, while surveillance has been increased.
The Joint Media Campaign Coordinator (JMCC) of JTF, Lt. Col Timothy Antigha, confirmed the incident and said the security outfit was on top of the situation.
Antigha, however, appealed to youths of the Niger Delta not to destroy the peace that already exists in the region.
While insisting that the military cannot provide security for all pipelines in the region, because of the terrain, he said it was the responsibility of youths and communities where these pipelines are located to secure them.
'The only thing the JTF would say is to appeal to the youths to allow peace to reign. With the amnesty exercise, it is proper for them not to destroy the peace. The development they want can only happen when there is peace. Nobody would come and invest in the region, if there is chaos and violence. Also, the communities, where these pipelines are located, should also do their best to secure the pipelines,' he said.