Suspect in Weapon Intercepted @ Apapa Wharf, Seek Refuge in Iranian Embassy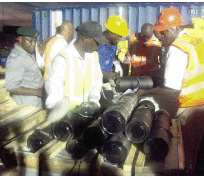 Huhuonline.com can disclose that the mastermind of the arsenal of weapon intercepted at the Apapa Wharf, yesterday, has gone into hiding. The man identified by huhuonline.com impeccable security sources, is an Iranian business man, who has chains of business. However, our finding has revealed that the suspect is not licensed to deal in arm in the federal republic of Nigeria.
  For security reasons, huhuonline.com is not allowed to disclose his name, but can reveal that the illegal arms dealer has sought temporary residence at the Iranian Embassy in Nigeria.
  When asked about their guest, an Iranian Embassy official confirmed he was with them, but refused to say, if he would be handed over to Nigerian security agency. The customs agents, who were in cahoots with the arms dealer, have been arrested.
  Huhuonline.com understands that the discovery of these arms has sent shockwaves across Nigerian security agencies, as the weapons intercepted are considered to be highly sophisticated, and are used mainly in operations of mass destruction or war. However, the National Security Adviser, Gen. Aziza, who visited Apapa Wharf, today, said the government was alarmed at the volume of the arms intercepted and promised that a thorough investigation will be carried out.
  Continuing, Azazi said,
  'At this point, the only thing we can say is that we have some armaments that were discovered at the port by the security agencies. We do not want to make any conclusion about what caliber of ammunition, where they are going or where they are coming from.
  'We need a lot of verification and at the end of the day Nigerians will know what the issue is all about. Let us not jump into conclusion'.
 
'We have discovered them and we will do whatever is required to make sure that everybody is protected. I think the SSS has a very good procedure and that is why these containers could not go unchecked.'  
As huhuonline.com previously reported, the State Security Service (SSS) intercepted containers loaded with rocket launchers, grenades and other explosives in the main port of Lagos, weeks after deadly car bomb attacks in the capital Abuja.  
  According to the SSS spokeswoman, Marilyn Ogar the 13 containers were intercepted in Apapa Wharf, as part of tightened security measures introduced after the Oct. 1 st bomb blast.
  Continuing, Ogar said,   
  'On opening the first container, the service operatives discovered rocket launchers, grenades and other explosives,'      
  'The weapons were concealed among crates of floor tiles and the paperwork indicated that the shipment was made up of building materials'.    
  The other containers were still being searched, Mrs. Ogar added