P&G RELAUNCHES NEW ARIEL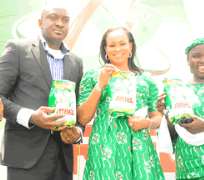 A global consumer goods manufacturer, Procter & Gamble, penultimate Monday, launched a new upgraded formulation of its premium detergent brand, Ariel for the Nigerian market. According to officials of the company, the new Ariel is the best ever formulation yet, and contains an upgraded and more effective enzyme cocktail that gently removes many tough stains in one wash to give brilliant cleaning results.
The product was endorsed by a trio of leading Nollywood stars, Bukky Wright, Ngozi Ezeonu and Saratu Gidado in an exciting event at the Eyo Square located within the popular Idumota market on Lagos Island.
Speaking at the unveiling of the new, improved Ariel Prozim, the Brand Manager, Laundry, P&G West Africa, Mr. Godwin Harrison, said the product uses an upgraded technology with increased enzymes and polymers that remove tough stains even more effectively in just one wash that most detergents can't remove in two washes. And these, he said, include tough stains from food, chocolate, coffee, wine, fruits, make up and ink.
He disclosed that P&G invests about $2 billion globally in Research and Development every year to develop new improvements in products and deliver to consumers, products which meet global quality standards. 'Since 1837, P&G has built a heritage of touching consumers' lives across the globe with brands that make everyday life a little better; now and for generations to come and we remain committed to improving the lives of world's consumers. We respect our Nigerian consumers and from listening to them, we use the latest technology to deliver superior products that meet Nigeria's needs, bringing world class standards to the Nigerian market.' he said.
He noted that since Ariel was introduced in 1967 as the most advanced consumer detergent of its time, the brand has grown to become one of the world's largest selling detergents, used in the washing of more than 300 million pieces of clothing every day around the world.
'We first launched Ariel in Nigeria in 1998 and started local production of Ariel in 2006. Since then, it has been a continuous upward trend of innovations and improvements as we continually provide Nigerians with the best quality products always. With Ariel Prozim's 'ONE WASH' promise, consumers can be certain they are making smart choices when every naira counts and they would spend less on detergents, spend less on water and clothes last longer, as they do not go through the stress of repeated washing. This is particularly important in this harsh economic time,' Godwin said, adding that Ariel is creating value for Nigerian consumers by offering the right products to meet consumers' needs and budget.
The Nollywood stars, later supervising a demo wash to show the difference between Ariel Prozim and ordinary detergents, delighted the audience after staining thoroughly two pieces of identical clothes with ink, chocolate and tomato, the cloth washed with Ariel was spotless after few minutes of washing, whilst the cloth washed with an unknown detergent remained stained in spite of washing twice.
Highlighting the efficacies of Ariel Prozim Wright, Ezeonu and Gidado described the new product as a bargain buy for every Nigerian family due to its ability to deliver in one wash, what other detergents may not accomplish in several washes.
Established in 1992, P&G Nigeria is an important investor, manufacturer, technology transfer agent, employer and exporter.  P&G produces Ariel Detergent, Bonux Detergent, Pampers Disposable Diapers, Always Sanitary Pads and Vicks Throat Drops in Nigeria and employs over 1,800 direct and indirect employees through its general office in Lagos and manufacturing facilities in Ibadan. The company is now expanding across West Africa with a central business and production hub in Nigeria.