BIO SUMMONS NFA, NANF OVER COURT CASE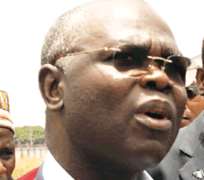 Following the confusion that trailed the discontinuance of the case by the National Association of Nigerian Footballers, NANF at a Lagos High Court on Monday, the Minister for Sports and chairman National Sports Commission, Alhaji Isa Bio on Tuesday summoned all the warring parties to Abuja for a meeting.
According to dependable sources in Abuja, the meeting was held until late hours of Tuesday night was to discuss ways of finding a lasting solution to the crisis that had engulfed Nigerian football, which led to a ban eventually.
Though, Nigeria had a reprieve with the provisional lifting of the ban pending the withdrawal of the case by NANF, the discontinuance however has not provided the desired peace as there are insinuations that the case does not guarantee that the board led by Alhaji Aminu Maigari.
Daily SunSports gathered that with the court not making a clear pronouncement on reversing the decision of the court as regards the election, the minister notes that it was imperative for people to make sacrifices in the interest of Nigeria.
One of those called up for last night's meeting, Dr. Rafiu Ladipo, President of the Nigeria Football Supporters Club would not say why the meeting was called but confirmed that was not unconnected to the terms of settlement regarding NANF's case against the NFA.
Harrison Jalla, president of the National Association of Nigerian Footballers (NANF) had on Monday waved the magic wand when his lawyers made good their promise to discontinue the case that has left Nigerian football crisis-ridden.
Jalla confirmed to Daily SunSport that his body the National Association of Nigerian Footballers, NANF, the House Committee on Sports of the House of Representatives, the Nigeria Football Association, NFA and officials the National Sports Commission, and NSC had reached a compromise.