2011: EFCC Can't Stop Me – Orji Kalu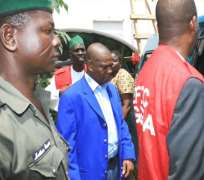 San Francisco, Oct 25, (THEWILL) – Former Abia State Governor and presidential aspirant, Chief Orji Uzor Kalu has reacted to his inclusion in an EFCC advisory to political parties to bar indicted persons from becoming candidates for elective positions in forth coming elections.
In a statement today signed by Kalu's Special Assistant, Media, Emeka Obasi, Kalu said: "Democracy thrives on the altar of fair play, where "the law of the land is supreme."
The statement in full reads thus: "It is remarkable that from inception, the Economic and Financial Crimes Commission [EFCC], has remained under the leadership of officers who also earned degrees in law. However, feelers from the anti-graft agency indicate that the body may be floating in the murky waters of politics in the bid to thwart the political ambitions of some perceived vocal members of the opposition including former Abia state governor Dr. Orji Uzor Kalu.
"It is also strange that the EFCC has gone ahead to draw up a list of Nigerians, most of them innocent bona fide citizens, who should be denied their constitutional rights of vying for positions in the 2011 elections. On the list are Dr. Kalu, former Health minister Prof. Adenike Grange, and former minister of state, Chief Gabriel Aduku among 52 others.
"For the avoidance of doubt, Dr. Kalu has been in court trying to clear himself of all trumped up charges by the same EFCC and remains innocent until a court of competent jurisdiction proves otherwise. And because the law permits him, he is very free and most willing to pursue his political ambitions. The EFCC is not a High Court of Justice and can never be one.
"How absurd it is that Prof. Grange and Chief Aduku who had since being cleared by the judiciary, are still being hounded by the EFCC. It is a shame that while the world deemed it fit recently to honour Grange, the First African woman President of the International Paedaetrics Association, a group of shadow chasing Nigerians is bent on turning the law upside down.
"The truth of the matter is that the EFCC must show that it is not the Gestapo arm of some interests in Abuja. And there is a lot to be picked from the recent Ekiti judicial road map which ended Mr. Segun Oni's tenure as governor only when the Appeal Court intervened. Better still, we have had cases of people winning election from the prison yard. Nobody stopped them from contesting in the first instance. And nobody, except God wills it, can stop Dr. Orji Uzor Kalu from hearkening to the pleas of his supporters."