Ship load of grenades, explosives, mortar, intercepted in Lagos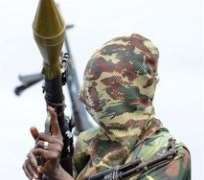 Nigerian security forces seized an illegal arms shipment Tuesday containing "grenades, explosives and mortars" at the nation's largest shipping port, a secret police spokeswoman said.
The seizure represents a troubling sign in Africa's most populous nation after a car bombing targeting the country's Oct. 1 independence celebrations killed at least 12 people. With Nigeria approaching what could be a hotly contested presidential election next year, the nation remains beset by targeted killings allegedly committed by a radical Islamic sect and the threat of new violence in its oil-rich southern delta.
Marilyn Ogar, a spokeswoman for the State Security Service, said Tuesday that agents had only gone through eight crates inside of one shipping container labeled as carrying "building materials." Four crates contained floor tiles, while the other four crates contained military-grade armaments, Ogar said.
Ogar said security agents believe the crates and containers seized at the Apapa port in Lagos may also contain rocket launchers. She said agents would continue to search the containers through the night and she would have more information Wednesday morning.
Ogar declined to identify the ship carrying the container, or its final destination.
"After the Oct. 1 bombs, we had information that arms were being brought into the country," Ogar said.
 
Though declining to say where the information came from, the reference to bombs that struck Nigeria's capital Abuja raises questions whether former militant and alleged arms dealer Henry Okah is involved in the shipment. Okah faces terrorism charges in South Africa after authorities say he masterminded the Oct. 1 bombing and served as the de facto voice of the Movement for the Emancipation of the Niger Delta, or MEND, the oil-rich region's main militant group.
Okah has denied the charges and has said he did not write MEND communiques under the nom de guerre of Jomo Gbomo.
AP

 


Readers' Comments