Sack LASU VC Now, Lagos Lawmakers Advise Fashola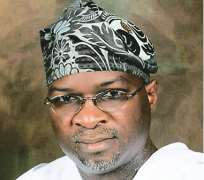 Huhuonline.com understands that the Lagos State Governor , Babatunde Fashola , has been asked by the State House of Assembly to immediately relieve the Vice Chancellor of the State owned university, Professor. Lateef Hussein of his duties.
The embattled VC had always escaped from the wrath of the lawmakers in the past. However, this time the lawmakers finally passed a vote of no confidence on him and said his removal would be the major solution to the crises currently bedeviling the institution.
The lawmakers said they could no longer entrust the institution to him since he has proven his inability to manage the institution.
The Governor was also advised to immediately implement the requirements for the re-accreditation of the 10 courses initially denied accreditation by the National Universities Commission , the country's apex university regulation body.
Students of the institution had protested to the Governor's office weeks back decrying the appalling state of the various faculties that make up the school.
While they claim to pay exorbitant fees, 85 per cent of them are forced to stand and receive lectures.
The students also decried the lack of infrastructure with some in the department of computer studies saying they had never touched the computer since they got into the school.
While the Faculty of Law is described as an eyesore, the VC was accused of building a fence around some dilapidated buildings in the Epe Campus of the institution and showcasing same to the public as projects his administration had executed.
Professor Hussein knew his time was up yesterday when he could not give any coherent answer to questions posed to him about several accusations against him.
He only sat quietly while a barrage of accusations earlier published by huhuonline.com were reeled out by staff of the institution who also told the legislators that they were already looking elsewhere for jobs.
Huhuonline.com learnt that several students who graduated years ago, have not seen their results due to the lukewarm attitude of the VC and his cronies.
Lecturers in the school further said that most of them were always scared to tell him the truth for fear of being victimized.
It was learnt that his mode of frustrating those he does not like included forcing them to resign on trumped up charges.
He also held down their promotion and never supported the idea of financially encouraging those who wished to go for their doctorate despite the fact that he put an embargo on promotion pending when the lecturers received their PhD.
His removal, it was learnt would usher in a new regime that would see to the urgent standardization of the institution. It would also see to the removal of all those whom he recruited through the back door.