PRODUCTIVITY, KEY TO IMPROVED NATIONAL LIFE – JONATHAN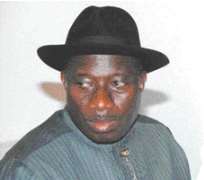 Jonathan
President Goodluck Jonathan has identified productivity as a driving force for economic development, which contributes towards the prosperity of the people and drives organisations and individuals on a competitive edge in the open market. This, he noted, translates to the improvement of national life.
Speaking through the Minister for Labour and Productivity, Chief Emeka Wogu at this year's National Productivity Order of Merit Award, Mr. President recalled the cardinal role of productivity within global circles. He added that the ultimate goal of productivity as a key factor for national growth, enables societies to generate wealth through an optimal mix of available resources, human knowledge and skills, energy and capital towards improving the quality of life of the people.
While congratulating the award recipients, President Jonathan further stated that the productivity and order of merit award had brought to the fore, an opportunity to remind the citizenry of the need to develop a productivity mindset with the aim to institutionalise a productive culture, consciousness and excellence in service among workers and organisations in both the public and private sectors in Nigeria. He equally emphasised hard work, high performance, efficiency, discipline, dedication, humility and patriotism.
Reacting after picking an award on behalf of the Federal Road Safety Corps for ensuring sustainable safety on Nigerian roads through effective patrol operations, prompt rescue activities and innovation in Information and Communication Technology, the Corps Marshal and Chief Executive, Osita Chidoka dedicated the award to FRSC patrol teams on the highways who have been consistent in driving the corps' projection towards 50 percent reduction in road crashes by 2015.
Furthermore, the corps marshal noted that the corps' remittance of N600 million in 2007 and N1.1billion in 2009 to the federation account, in addition to the reduction of number of reported cases of road crashes from 4,600 between January and June 2009 to 2,400 within the same period for this year, as part of the indicators which could have put the FRSC on the award list adding that the corps would remain committed towards its aspiration for Nigerian roads to be among the safest within global circles by year 2020.
Twenty individuals and four organisations benefitted from this year's National Productivity Order of Merit Award for remarkable feats in productivity, which had added value to national life through efficiency, excellence, patriotism, innovation, dedication, creativity and hardwork.