MY PEOPLE ARE GOING BLIND DAILY, DISTRICT HEAD CRIES OUT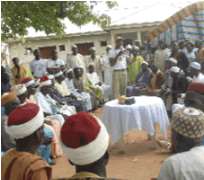 A seminar about blind people
How does it feel to be a king in a community where majority of the people are blind? The prospect of this scenario is what is staring Alhaji Sule Dobi in the face, and the traditional ruler has raised an alarm that unless something urgent is done, he might find himself ruling over a blind people.
For Dobi, the District Head of Dobi, a rural community in the Gwagwalada Area Council of the Federal Capital Territory (FCT), if there is anything that matters now, it is how to arrest the ravaging incidence of blindness which is reaching an epidemic proportion in his community.
And not surprisingly, when Daily Sun visited the interior community located over 10 kilometers from the University of Abuja Teaching Hospital in Gwagwalada, that was the foremost prayer by the traditional ruler. Dobi is a with over 40 villages, peopled mainly by Gbagi indigenes, who live peacefully with people from other tribes.
In response to their request, Dr Emwanta Egbe, a National Youth Service Corps (NYSC) member serving with the University of Abuja Teaching Hospital, had gone to the community to give a free eye screening and treatment as his personal Community Development (CD) project and the number of people whose eyes were confirmed to be defective was quite alarming.
Shortly after the environmental sanitation exercise that held on that Saturday morning, the people from all over the community trooped out in their large numbers to the community clinic and sat under the gmelina trees in a very clement weather, waiting patiently for the opportunity to meet the medical team for their eye examination and treatment.
Impressed by the laudable project, the District Head, who led all the Village Heads under him and their subjects to be treated, described the project as unique because it was addressing their peculiar problem.
'We know that we have eye problems and I know most of the people will not be treated today but at least anybody that is here will now know that actually their eyes cannot see very well. We hope more of this project will be brought to this community,' he stated.
The District Head who said he could not actually explain why so many people in his domain were struck by impaired vision, said most of his people are farmers and in the process of tilling the soil their eyes may have come in contact with sand, and this happening in a continuous basis was capable of destroying their sights.
Expressing the desire of his people to unravel the cause of high rate of bad vision in the community, the royal father requested the government to establish an eye clinic in the community to handle the issues of impaired vision. 'You can see the number of people and it is not all that are aware of this project but you can see the turn out. There are so many of our people suffering from eye problem. I am pleading that government should at least establish an eye clinic in Dobi community,' he stated.
The District Head, who was practically happy with Dr Egbe for recognizing the need of his people and coming to their aid, made a case for a befitting award for him by the National Youths service Corps (NYSC).
Egbe on his own part, was fulfilled that he was in a position to help humanity. He was quite impressed by the turn out and the fact that he was able to bring the project to the people who really needed it. He expressed his desire to do more of such project for the people of Dobi and other communities.
The graduate of University of Benin, who hails from Uhunnode in Edo state, he said that on arrival in his place of primary assignment, he carried out consultations and realized that it would benefit the people of Dobi. In the light of this, he said he made arrangements and deployed about 15 eyes specialists from the University of Abuja Teaching Hospital and secured medical equipment and glasses for the project. After the screening, those with minor surgery cases were attended to, some were treated and those that needed corrective glasses were given while higher cases were immediately referred to relevant referral centres.
Egbe said his effort was in line with the World Health Organization (WHO) global initiative aimed at preventing avoidable causes of blindness. 'Statistics shows worldwide that you have187million people with low vision out of which 47million are totally blind and 75 percent of this population are from developing countries in which Nigeria is one,' he submitted.
He said out of the over 1000 people that trooped out as at that Saturday afternoon for their eyes to be given attention, it was regrettable that many suffered from cataract, which could be treated with about N15000, but due to high level of poverty, the cataracts were left over the years to deteriorate into outright blindness.