NIGERIA'S RISING DEBT: PUSHING ECONOMY IN THE THROES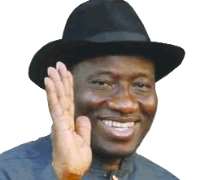 Jonathan
Amidst fast depleting external reserves that now stands at about N36 billion dollars, rising profile of domestic and external debt is generating serious concern among economic experts who fear that the future of the nation's economy might be headed for the rocks unless urgent measures are taken to stop increasing accumulation of debts.
After the administration of former President Olusegun Obasanjo got the Paris Club to write off the nation's $30 billion debt in 2006, with annual debt service payments falling from $1.8 billion to $0.8 billion, it was thought that annual earnings would be directed at enhancing investment in national development and economic growth.
However, four years after this milestone, figures from the Debt Management Office, put the country's external debt as at last August at $3.95 billion. Only in March, the Finance Minister, Dr. Olusegun Aganga, put total domestic and external debt portfolio at about $27.36 billion or N4.104 trillion, representing 13.8 per cent of the Gross Domestic Product (GDP).
Reports suggest that 85 per cent of the country's public borrowing was from the domestic market last year, while 15 per cent came from abroad. The local component climbed from as high as 83 per cent the previous year, which is why World Bank managing director and former Finance Minister, Ngozi Okonjo-Iweala, counseled for a fiscally prudent approach to managing the resources of the country.
In 2006, Nigeria's external debt overhang was $3.54 billion; in 2007, it rose marginally to $3.67 billion and in 2008 it further inched up to $3.72 billion but dropped slightly in 2009 to $3.62 billion only to rise sharply to $ 4.3 billion as at March 2010.
'The problem is domestic debt. We have accumulated up to $22 billion equivalent of domestic debt, that is, debt taking within the country; that is what we need to focus on', Okonjo-Iweala, pointed out recently.
She said 'Nigeria has to pay attention to domestic debt and stop accumulating it. When you accumulate a lot of domestic debt, you are clouding out the private sector. At this level, we must not accumulate more domestic debts because if we do that, it is going to lead to some of the debt problems that we are avoiding', the World Bank director warned.
It is instructive that the warning was coming from the former finance minister who played a major role in the country's 2005 Paris Club debt relief deal. Okonjo-Iweala, who spoke to journalists recently at the 2010 World Bank/International Monetary Fund annual meetings in Washington DC, said Nigeria must, at the present level of domestic debt, stop its accumulation to prevent unfavourable consequences such as clouding out the private sector.
She said 'Nigeria has to pay attention to domestic debt and stop accumulating it. When you accumulate a lot of domestic debt, you are clouding out the private sector. At this level, we must not accumulate more domestic debt because if we do that, it is going to lead to some of the debt problems that we are avoiding'.
In response to this general concern, the Federal Government, recently, directed the economic management team to set up a committee to check the rising debt portfolio. The President directed that the national economic team should come up with updated guidelines for external borrowing.
Coming on the heels of federal government's request for a $4.4 billion foreign loan, and fresh move towards funding estimated budget deficit of N1.5 billion from the bond market, experts say that economic growth might be hampered unless urgent measures were taken. The breakdown of Jonathan's loan request shows that $1.854.71 billion will be spent on existing projects, $1.073.2 million on appraised projects while $2.415.0 billion will go for pipeline projects, adding that the three categories of projects amount to a total $5.242 billion.
This is not the first time concern was raised over the state of the economy.
In December, 2009, the Debt Management Office (DMO) had cause to express doubts about sustainability of the nation's domestic debt. In its report titled 'National Debt Management Framework: 2008 to 2012', the Office stated that, though the country seemed not to have any domestic debt sustainability problems over the medium term, it might face challenges servicing the debt by 2010.
But the warning seemed to fall on deaf ears as all tiers of government carried on business as usual. For both the federal and state governments appeared to see nothing wrong with the development which experts said that if allowed to continue, would sound the death knell of the nation's economy.
And to demonstrate its insensitivity to the grave economic signal, the Federal Government went ahead to secure another $195 million loan package from the World Bank sometime in the middle of the year, a development that saw external commitment to various international financial institutions and groups hitting $3.8 billion.
But even as external debt is rising, it has not generated as much concern as the domestic debt over which economic experts twarn that the country's economic growth might be hampered if the Federal Government did not watch rising domestic debt profile.
According to analysts, several factors could be responsible for the rising debt portfolio, ranging from lack of fiscal discipline, fall in oil prices, corruption in high places, and wasteful spending on the part of public office holders. In terms of rising domestic debts, analysts advance three theoretical reasons for government domestic debts. First is for budget deficit financing. Another is for implementing monetary policy (buying and selling of treasury bills in the open market operation) and the third is to develop the financial instruments so as to deepen the financial markets.
In Nigeria, several factors have been advanced to explain the changing domestic debt profile. The major factors include - high budget deficits, low output growth, large expenditure growth, high inflation rate and narrow revenue base witnessed since crash of oil price at the international market. Economic data have shown that output growth of the country declined as it recorded annual average values of 5.9 percent between 1980 and 1984; 4 percent in 1990-1994 and 2.8 percent in 1998-1999 periods respectively.
However, growth was recorded between 2003 and July 2008 when crude oil prices touched $147 before it once again nosedived in a precipitous crash to $33 only to resurge again beyond $86 since last April.
It is usually expected that as countries expand their output, they also tend to rely more heavily on domestic public debt issuance to finance growth. There is thus a strong cross-country relationship between economic growth and the total size of the debt market.
Besides, with state governments rushing to the capital market to raise funds at the twilight of tenures of some of the governors, there has been a noticeable leap in the domestic debt profile, resulting to concerns about the forth-coming elections and what becomes of the debts being accumulated through bonds issue.
Against this backdrop, the Debt Management Office (DMO) has developed a National Debt Management Framework (NDMF) to guide various policies and map out strategies for external and domestic borrowing by both the federal and state governments as well as their agencies.
The framework is intended to limit borrowings to sustainable levels, as well as to ensure that there is value for money and that the use of such borrowed funds leads to growth, employment and poverty reduction.
But despite this effort to instill sanity in use of public funds, there is not much to show for the borrowed funds as investigations showed that outside Lagos State, much of the funds raised through bonds issue by state governments is yet to be properly utilized.
Olujimi Boyo, an economic expert, blamed the situation on faulty monetary policy of the Central Bank of Nigeria (CBN) and failure on the part of the Debt Management Office (DMO). The economist stated that the monetary frame work where CBN unilaterally captures dollar earnings of the country, determine the exchange rate and subsequently substitute what it considers the appropriate naira quantum, putting it into the hands of banks creates the scourge of perennial excess liquidity.
'The perennial scourge of excess liquidity means that you always seem to have a lot of money in the system when in actual fact the banks don't have enough money to lend to the real sector. That is a contradiction. How can you say there is enough money in the system and the banks keep lending to the government?' said Boyo.
In his argument, state and local governments' monthly allocations should be dollar-denominated with the CBN issuing them with dollar certificates which the two tiers of government could convert to naira based on the prevailing value.
This, he said, would resolve a scenario where CBN captures dollar earnings of government and sell same to bureau de change operators who end up selling the dollars to smugglers of contraband products and looters of the economy who launder the dollars and stash it away in foreign accounts.
'The constitution says that government should have domiciliary account where it
would lodge its dollar earnings. Why should state and local government not have domiciliary account? Because CBN has taken over the dollar earnings of government, convert it into naira and pay to state and local governments. This, partly, is what is killing the economy.
'The proper thing is for CBN to pay all tiers of government with dollar certificate not cash with which they go to bank, obtain naira equivalent of that dollar certificate. But the present practice of CBN capturing the dollar earnings, convert it to naira and then pay state and local governments in naira, there after sell the dollar to bureau the change operators, who sell the dollar to smugglers of contraband goods and looters of our treasury and other categories of importers is simply counter productive.
'The main beneficiaries of this arrangement are people who want to take our money away. Unfortunately, CBN has created a frame work to ensure this situation is sustainable. Consequently they are selling billions of dollars to operators of bureau de change, while we are going out to Paris Club and other International bodies to lend us some dollars. How can you sell your billions of dollars to bureau de change and at the same time go to international bodies to lend millions or billions of dollars? It doesn't make sense', Boyo submitted.
The debt management office, he said, had failed in its role of moderating the debt portfolio of the country, and instead ended up helping the government to accumulate more debts.
The debt management office was created to moderate our debt portfolio. Instead what the debt management office has been doing is creation of debt. The debt management office on its own has ensured that the government accumulated over N2trillion naira. In other words they have not managed debt but has created debt.
He recalled that before the exit of Paris Club debt the DMO could not determine how much the country was owing. 'This was what they are supposed to be doing to streamline the debt portfolio and work towards the exit but it didn't.
'It was only that Nigeria was part of international debt reprieve. It was not because of anybody in government that the debt was cancelled rather the international body said they were giving Africa a debt reprieve and Nigeria is one of the countries that benefited from it. Similarly other African countries which hadn't so called technocrat in government had 100 percent debt reprieve', Boyo submitted.
According to the Managing Director and Chief Executive Officer, Excel Consulting Limited, Dr. Oladimeji Alo, government is gradually fast moving towards enslaving itself once again on the apron strings of creditors, a situation from which former President Obasanjo's administration helped to pull country out from few years ago.
'We are going to get ourselves into a situation where we are like a slave to our creditors.
Somebody who is in this situation becomes like a slave to his freedom, his freedom of action will be determined by the debt he owes. 'And that was the situation we were before Obasanjo and Okonjo-Iweala succeeded in getting us debt relief and paid down our debts. Unfortunately, within a short time we are rapidly amassing fresh debts', Alo recalled.
Although he noted there was actually nothing wrong with borrowing but added that 'The certainty of the matter for us is that the debt we are acquiring are not invested in projects that could yield economic benefit going forward. And also we are not known to get value for money in our public sector investment or public services investment'.
Alo said that to make matters worse, much of the debts was a direct consequence of budget deficit financing as greater percentage of government funds go into the financing of over-bloated government bureaucracy. According to him, larger percentage of the country's revenue is wasted in servicing the greed of politicians to the detriment of the economy, resulting to huge infrastructure deficit.
To address the problem, the former boss of Financial Institutions Training Centre (FITC) said that government must as a matter of urgency take steps towards reverting to old parliamentary system of government, stressing that the present system of government is simply unsustainable. 'The current system of government where over 60 percent of government revenue is spent servicing the greed of public office holders, is simply unsustainable. That is what our fresh accumulation of debts goes to show. And if urgent steps are not taking to move away from the current system of government, we may end up destroying the economy irredeemably', the financial expert warned.
He further recommended the pursuit of policies that could promote macroeconomic stability; acceleration of non-oil growth and concentration on growth enhancing infrastructure, as well as expanding the sources of internally generated revenue (IGR) and improvement on the efficiency of revenue collection process.
Also commenting on the grave consequences of rising debt profile, another analyst said: 'Indeed, the danger in accumulating these debts lies in the principal and interest repayment, which ultimately affects current expenditure that should be utilised for economic development.
A whopping N497 billion was appropriated in the 2010 budget for debt servicing alone (almost double what was budgeted in the previous year). This money, ordinarily, could have been channeled to infrastructure development and social services like education and health care'. He opined that public debt has no significant effect on the growth of the Nigeria economy because the fund borrowed were not channeled into productive ventures, but diverted into private purse. He suggested that EFCC's war against corruption should be fought to the highest.
He concluded that the growth of domestic debt has affected negatively the growth of the economy stressing that majority of the debt market participants are unwilling to hold longer maturity and as a result the government has been able to issue more of short term debt instruments. This, he said, has affected the proper conduct of monetary policy and affected other macroeconomic variables like inflation, which makes proper prediction in the economy difficult.