EX-GOV BUKAR IBRAHIM SAYS PDP BRINGS SORROW, RETROGRESSION RATHER THAN JOY AND PROGRES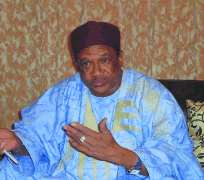 Ibrahim
Former governor of Yobe State, Bukar Abba Ibrahim, has said that the Peoples Democratic Party (PDP), cannot bring succour to Nigerians. Ibrahim, who represents Yobe East on the platform of the All Nigeria Peoples Party (ANPP), in the Senate, told Daily Sun 'some of us have been calling for unity among the opposition parties so that we can jointly push PDP out of power and to save the nation from more disaster because the party is an harbinger of sorrow, retrogression rather than joy and progress.' He spoke to Timothy Ola excerpts:
PDP, a disaster party?
PDP has always been a disaster and not even Goodluck Jonathan with academic background and lots of experience in public service can salvage the party. They seem not to be ready for any revolution. The PDP is a reactionary party and always ready to spread poverty and as such, it will be difficult for anybody to change. Some of us have been calling for unity among the opposition parties so that we can jointly push PDP out of power to save the nation more disaster because the party is an harbinger of sorrow, retrogression rather than joy and progress.
ANPP's new leadership
The ANPP probably had the best convention it has ever had and I am happy at the election of the new national chairman because we all started the party together. He is not one of those who came into the party, got leadership position and then went to sell our party to the highest bidders. There was always leadership problem in ANPP right from Senator Mahmud Waziri up to Chief Umeh Ezeoke.
We have never had good leadership at the national level, but I believe the new national executive will run the party effectively in the next four years. We are very lucky to have gotten an experienced person like Dr Ogbonnaya Onu as the national chairman and Lawal Shettima as the secretary. Onu is my very good friend and he is a very reliable person. He is not the kind of person anybody can buy. Nobody can buy ANPP under Onu's leadership.
We were governors in 1992-1993 together that was when we knew each other.
He was our chairman, I mean the chairman of the then Governors' Forum made up of 30 governors'. He started with us in ANPP. He was the first presidential aspirant in the then APP, but they manipulated the process and brought Chief Olu Falae and Alhaji Umaru Shinkafi. At that time, we had nine states and a number of other states we would have won easily at that time, but because of lack of resources, we couldn't go further. We did not have rich Nigerians in the party at that time, so the problem of inadequate funds robbed us of victory in several other states. We ended up with nine states and today, we have only three.
Jonathan, not the messiah
As a member of ANPP, this kind of question is not for me. Jonathan is a member of PDP and the question of turning around or not is too huge to ask at this stage. He is just an aspirant and his party has not even given him the ticket. In any case, if he is going to turn Nigeria around, we will see between now and election period.
We still have up to April next year for him to do the said turn-around.
Within this period, somebody, who is in position of power should be able to prove that he can turn things around. The issue of turn-around means taking the right steps and he is already six months in the office and he may have something close to that to spend. If however, he cannot convince us within this period that is going to turn our fortune around, obviously even if you give him the four years mandate, he will not make much difference.
Probably, this is not the right time to ask this question.
Though he has not taken any step and decisions to put the nation and her people into disaster or dangerous situation. I have also not seen him taken some concrete decisions that will change Nigeria for the better. For example, on power they seem to be doing something even though it is very slow. I have not seen serious action taken on infrastructure. Nigeria needs a lot of infrastructure.
I strongly believe the only way we can turn around infrastructure in this country is to get loans either from World Bank or financial institution for infrastructural development like road construction, dams and big irrigation schemes. All these will definitely change our infrastructure positively and then gradually we shall pay the loans. I don't think we can be involved in infrastructural revolution in this country with our internal resource.
Again, nobody seems to be doing anything on education. I see no reason why in 2010, some children should not go to school simply because their parents are poor. It is high time we have free and compulsory education at least up till secondary school level. It should be free and compulsory no matter the cost. These are some of the bold steps Jonathan ought to take, but I haven't seen him taken them so far. Education is yet to get positive impact even within the six months he had been there. I haven't seen the kind of actions that will eventually turn our fortunes around positively.
However, he still has six more months to go. I hope he will take some big steps to change this country for the better. If I were to support him at all, I have to see him take some bold steps on those three issues. I mean infrastructure, education and power.
INEC and 2011 elections
Really, there was no extension. We were supposed to have our election in April any way and we thought we could do. But we realized it is a bit early to do so. That all court cases will have been completed by May 2011 but then, INEC categorically said we cannot bring elections closer. We have to go back to square one. There is no problem on that, let's have our election in April and I hope INEC will take concrete steps on every major thing for the good people of Nigeria.
Nigeria has what it takes in terms of human and material resources to make life better for all of us. One person cannot conduct election successfully though the incumbent National Chairman of INEC is a man of integrity. He is a radical with clean credentials, but it does not necessary mean we will have free and fair elections except Nigerians give him the support. He might be working with corrupt commissioners and electoral officers at higher and lower levels. I have great respect for him, but that's not enough for us to have free and fair elections. Unless Nigerians have resolved to conduct free and fair elections it may be difficult getting our aspirations achieved.