Can't get me on jumpa and lace trouser ---Ali Nuhu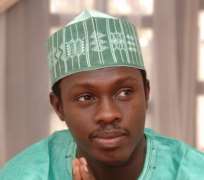 THOUGH, born in Maiduguri, Borno State, Ali Nuhu grew up in the ancient city of Kano, where he had his early childhood and secondary education. The journey to stardom for the actor started with his feature in some Hausa films that make up Kannywood. His first film was Abin'sirrine (It's a secret) in 1999, upon graduation from the University of Jos, where he studied Geography. The Kano State-based actor got his break with the film Dijangala that bagged an award for the Best Hausa Film at the Zuma Films Festival in Abuja. The Glo Ambassador, who has featured in many Hausa films, starred as Ibrahim in the BBC sponsored HIV/AIDS awareness serial Wetin Dey? He tells DANIEL ANAZIA what fashion means to him.
What's your take on fashion?
It is all about wearing whatever that suits your physique, using good colour combinations irrespective of the designer.
What would you consider as style?
Any trendy innovation.
Favourite piece of clothing
Jeans and T-Shirt. They make me look smart and ready to go.
Who makes your clothes?
Chiemela, a dexterous young Nigerian.
What would you not be caught wearing?
Jumpa and trouser made of lace.
Favourite colour
W-h-i-t-e! It signifies purity and stands out anywhere and at anytime.
Favourite signature scent
CHIC for men... The fragrance is so lovely
Your favourite food
Tuwo Shinkafa and Miyan Tashe. I can have this meal anytime of the day.
Likes
Truth and honesty.
Dislikes
Disappointment and dishonesty.
How often do you change your wardrobe?
Every four months.
What is on your shopping radar for the month?
A Ben 10 bike for my son… he keeps disturbing because he's crazy about Ben 10.
Any body grooming habit and care?
None, specifically.
Marital life
I'm married and blessed with two kids. My wife is quite beautiful and I would do anything to please her. Sometimes, I give my scripts to her and anything she does not like, I don't do on set. She is Hausa and a devout Moslem; she is liberal and supports my profession. Oftentimes, my roles on set could have to do with women and she would not object to kisses or hugs. Romantic scenes are allowed but there is a limit.
How does your wife feel seeing you kiss another woman?
Naturally, women are jealous and could get possessive over their husbands. I feel for wives of actors when female fans flock around them for photographs, autographs or make calls even late in the night. Naturally, my wife is not a jealous person but there was a time some rumour-mongers were all over town saying I was dating an Hausa actress. After an event, I gave the lady a lift and my wife saw us together. She was not angry but she cautioned me to stop being seen with that girl because people could mistake our intentions.
What are the challenges of being a fine-face actor?
There are numerous female fans, who would call endlessly. Some even ask you if I'm married or still single. I proudly tell them I am happily married. But there are some stubborn women who would not let go. When I could not control it, I got a software that helps blacklist some numbers from my hand-set.
Choice holiday destination
Dubai, I love its commercial nature. It is a place you can shop even while the holiday lasts.
What would you change in Nigeria, if given an opportunity?
The insufficient power supply (electricity). It is one challenge that has steadily hampered the development of Nigeria.

Ali Nuhu on the stage