STATE OF THE UNION – THE UNITED NATIONS OF NIGERIA @ 50 (PART 2)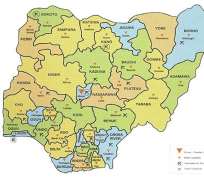 As a son of Niger Delta region of Nigeria and the United Nations of Nigeria I would like to condemn the bomb attacks that occurred in the federal capital territory Abuja during the 50years Independence anniversary celebrations. This inhumane and callous attack on fellow Nigerians is unconscionable and should be strongly and/or freely criticized by all sectors of our society. No persons and/or parties including the Movement for the Emancipation of the Niger Delta (MEND) should have the impunity to murder our country women and men not withstanding their legitimate/illegitimate grievances and their agitation for political positions. The perpetrators of this heinous crime should be prosecuted and should spend the rest of their natural lives behind bars. May the souls of the victims rest in peace and may our ancestors grant the injured and survivors the motivation and psychological stability to carry on. We mourn for this sad development on our soil. There needs to be a realization by all stakeholders that no one entity has a monopoly on violence. We have all observed this phenomenon from the world superpower, the United States of America to the clans in Somali in which vitriolic force does not adequately solve problems. Groups and organizations need to chart a progressive course in agitating for their demands. Some have wisely stated that it is easier to destroy than to build; so let us heed to a high calling of constructive dialogue and development. Is the Nigerian government and multi-national/global conglomerates guilty of pollution, underdevelopment, fleecing and many more in the Niger Delta?
There is a general consensus that the answer is a resounding YES, hence the need for all well meaning protesters to use means tested non-violent methods to achieve their objectives. Within the current crop of politicians there are few of them that can be partners in submitting a bill to the Nigerian National Assembly that would localize the control of natural resources. In anticipation of the prospect of resource control there needs to be some planning and evaluation on how to create transparent modalities and structures for the Niger Delta resources. It would indeed be ironic and psychopathic if the present cycle of unaccountability and astronomical corruption in Nigeria turns around to plagues the Niger Delta after local resource control is obtained. Let us consider the situation between Ethiopia and Eritrea. The Eritreans succeeded in their demands for freedom and autonomy but they presently have their own full-fledged dictatorship. Moreover in light of our history and experiences with the Nigerian-Biafran civil war, we the United National of Nigeria including the Niger Deltans need to uphold the sanctity of the African/black life. In different parts of Africa they have emulated our cantankerous dispositions, coup d'états, human rights violations, disastrous civil war/genocide, and national corruption. The outcome of these vices has been the cheapening of the African life with mass killings and genocides that steadily occur in our continent. Let us be proactive and learn from our missteps. I would prefer that we close down all the oil pipelines like the ones I climbed/played on within the Okrika and Eleme area, instead of killing fellow Nigerians. MEND we all know that you have weapons but how about registering your protest by organizing non-violent mass protest in the United Nations of Nigeria. The slaughter of innocent individuals in Abuja on October 1, 2010, like my cousin Henry Ogan who died in 2003 due to civil unrest in Port-Harcourt Rivers State, is not a panacea for the needed changes in national and regional polity and policies.
As Nigerians we are quick to appreciate other places and heap encomiums on foreigners while disparaging our homeland and local talents. Some of us want to rush to the United States and United Kingdom without acknowledging the histories of those nations. When I was attending nursery school in Port-Harcourt we sang glowingly about John Brown and I was wondering who he was and how he related to my childhood Nigerian landscape. After I arrived in the United States and in the process of my educational pursuit I discovered that John Brown was an abolitionist who gave his life and the lives of his sons to stop the inhumane institution of slavery in 1859 America. The song we sang at Stepping Stone nursery school was in tribute to an individual that went above and beyond as a matter of last result, to make life meaningful for our African American brothers and sisters.
Most Nigerians fail to realize that those places that we think are made of gold with people harvesting money from trees are the way they are because some of their citizens stepped up to petitioned their governments and made the ultimate sacrifices. Patriots like Ms. Rosa Parks and Dr. Martin Luther King in the United States put their personal welfare aside and their life on the line for the common good of their land. They protested and made their moral arguments without applying to the lowest denominators of hatred and violence. Their sacrifices have made it possible for those of us in the West to function and for our families to benefit. Our great philosopher Fela rightly chastised us for wanting to achieve material things, I wan buy house; I don get pikin; I no get pickin etcetera, without having the courage and principles to affect changes.
However, I want to commend those patriots who have decided to take positive actions and speak out against the status quo. The sectors of Nigeria media, government and private agencies that are encouraging transparency and exposing corruption are moving in the right course. Though I am miles away I have decided to bear witness about the importance of the lives of regular Nigerians. It is my conviction that none of our lives are ordinary, each of us are priceless humans. My criticisms of the United Nations of Nigeria are derived out of love and believe that we are capable of transforming. It might seem harsh or come off that way but the reality is that it comes from compassion and a vision for a better tomorrow.
Long live the United Nations of Nigeria.

Disclaimer:

"The views/contents expressed in this article are the sole responsibility of

thewillnigeria.com

and do not necessarily reflect those of The Nigerian Voice. The Nigerian Voice will not be responsible or liable for any inaccurate or incorrect statements contained in this article."
Articles by thewillnigeria.com