THERE'S NO NFA, NO PERMANENT COACH AND CONFUSION IS EVERYWHERE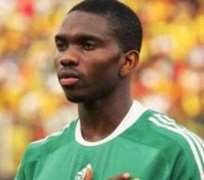 Yobo
The utter hopelessness that has engulfed football administration in Nigeria has been adduced as the reason the Super Eagles has kept putting up shambolic displays in recent matches.
The Eagles had played three matches after the South Africa 2010 World Cup under caretaker coach, Augustine Eguavoen. Out of those three games, the team lost two and won one.
Two weeks ago in Conakry, the national team lost 1-0 to the Syli Stars of Guinea in a 2012 Nations Cup qualifier, a defeat that could unarguably be ranked as one of the worst outings a Nigerian side had ever put up.
In all these, Eagles' captain, Joseph Yobo, has warned that the national team could be bedevilled with further misfortune if the current crisis rocking the Nigeria Football Association (NFA) is not resolved on time.
The former Everton centre back revealed that before the game against Guinea, the players were like orphans in Conakry and had to contend with substandard hotel and widespread low morale in camp, a situation he traced to the absence of an NFA board.
Yobo, who recently joined Turkish giant, Fenerbache from English Premier League side, Everton, also stated that putting Eguavoen as coach on an interim capacity, has proved counter productive. He advised that the football authorities in the country must endeavour to put the house in order so that every other department of the game would fall in line.
'As a professional, I don't want to give any excuse for our failure to win the match against Guinea, but Nigerians should know that we went through hell in Conakry,' Yobo began in an interview before jetting out to his base in Turkey. 'The absence of an NFA board on ground in Guinea exposed the players to a lot of maltreatment. The hotel in which we lodged in was substandard and the feeding arrangement was poor. We are human beings and for me, going into a crucial away game with such a shoddy preparation was not the best.
'To make matters worse, we were not sure whether the match would be played or not because of the ban on Nigeria by FIFA, which came few days to the Conakry game. 'Such a lack of organisation has a way of affecting the technical crew because right now, our coaches do not know their future with the team, as the NFA has yet to appoint a permanent coach.'
However, one player Yobo missed during the match against Guinea was former Bolton Wanderers' defence strongman, Daniel Shittu, who was asked to get a club before he would be recalled into the national team.
Shittu, who was arguably Eagles' best defender at the South Africa 2010 World Cup, has been without a club for a while, even though his commitment to the national team had not been in doubt.
After featuring for Nigeria in the 2-0 win over Madagascar at the U.J. Esuene Stadium, Calabar in a 2012 Nations Cup qualifier, Eguavoen had to bow to pressure to exclude Shittu in the game against Guinea to allow him sort out his situation of not having a club. Yobo believes that Shittu is an integral part of the squad and is seriously praying for the big defender to secure a club to enable him return to the national team.
'Honestly, I missed Shittu in our last game in Conakry. I pray he gets a club on time so that he can come back to the squad. 'If we had gotten our players together, beating Guinea would not have been difficult despite the bad pitch and difficult terrain we treaded.
'But I suggest that in a situation where we could not get our key players for a match, probably due to injury, the ones called to replace them should be good enough,' he added.