OHANAEZE NDIGBO: NAÏVE, FRUSTRATED OR SENILE?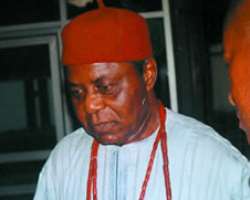 Did you read the very many, split and expensive advertorial published in virtually all the national newspapers and magazines in the land? Did you get the message? If you got it, did you note that the signatory is he who should speak for Ndigbo in ultimate sobriety and statesmanlike manner?
The content is like a review of the background to the seeming zoning crisis in the PDP, which tends to elbow into national politics, particularly in the areas of power sharing. It took the bold path in justification for zoning but in reprehension of the repudiation of earlier proposal for zoning to be in the Nigeria statute book.
In the sequence as Ohanaeze has done in the piece, it did everything possible to present zoning as the panache for Nigeria power sharing problems, but barefacedly, failed to point out that zoning, as it is now – a party affair – cannot actually become a subject of general interest for any geopolitical zone, except such are people of same ethnic extraction within the PDP.
Now, can you believe that the almighty Ohanaeze took such preposterous incursion into the affairs of the PDP, suggesting that the entirety of Ndigbo are of PDP and cannot be left to think of other ways of achieving power sharing other than through the ruling party?
Well, that is not even the issue that bothers me. The problem with the piece which Ohanaeze is boldly spreading across the pages of every newspaper in Nigeria is the calculation suggesting, in that usual Ohanaeze simplistic approach, that power would be zoned to the South East, on a gentleman's agreement, even as the former president, chief Olusegun Obasanjo, has declared that gentleman's agreements are not meant to be kept.
Now, hear the deductions: Ndigbo will have to vote for President Jonathan, and after 2015 or thereabout, the presidency would have to move to South East, being the only region that, by then, would not have produced a substantive president of Nigeria.
Do you know who signed it? The one and only Ambassador Ralph Uwechue, diplomat, historian, author and grand administrator of several ages. Was it not a marvel that the socio-cultural superintending organisation for a major ethnic group - people numbering over 45 million - would come down to such simple inspection and eventual poor analysis of power-sharing in a nation as ethnically conscious and divisive as Nigeria?
One regular respondent to my column, Uwen Okere, after reading the piece, called and said he just finished weeping. 'Why?' I had asked. He said who he did not know whether to say that these men had become 'naive or frustrated.' Otherwise, he would be shy to say they had become 'senile.'
Well, if Uwen, who I actually doubt his name as Igbo, was shy, I told him I was not. There was nothing bad in any of 'naivety, frustration and senility,' only that those around would have to appreciate and relate to the person as such.
I proceeded to explain. Naivety can come of ignorance but certainly of lack of exposure. Ndigbo had been out of the power loop for a long time. So, any of them offering such kindergarten viewpoint would be pardoned, first, on the condition that prolonged distance from power or anything for that matter could breed mere guesses not the facts of them. Secondly, if a woman is asked to return to a dance she did last in the middle of the 1960s, her steps in the 21st century would certainly be out of tune.
On the other hand, Ndigbo can rightly be said to be frustrated in Nigeria, having been defeated in a war. The Federal Government devoted a lot of resources and energy demeaning them. Neighbours clearly despised them; friends sneered at them. Enemies laughed their heads off in mockery and their people clearly denied their Igboness. It was not unexpected to find a frustrated and sometimes beggarly leadership stammering at a gathering where eloquence is the order of the day.
The issue of senility is actually less offensive. With age, we shall all be senile. So, if the current leadership of Ohanaeze were Nigerian/Biafran ambassadors in the early to middle 1960s, permanent secretaries who retired from service in 1970s, university teachers who left active service in the 1970s and administrators who had peaked in their careers in the early 1960s; then, what do you expect? Would you have them still living and thinking the way they did in their prime, over six decades ago? No way. Nature decrees that out.
Uwen then screamed that I missed the point.
What, then, are you talking about? I asked angrily. 'Ogazi…my brother,' he moaned, 'if Ohanaeze corners all of us and shepherds us into getting a South-South man to repudiate the zoning arrangement in PDP, can the whole votes from South-South and South East - just 11 states - get us one-third of what is needed to bring about a democratically elected president of Nigeria?'
'I see,' I said, my jaw dropping. His voice rose sharply, and right there, I realised that I was not actually talking to an underdog or one who did not reflect on what he was saying. 'So, naivety is it and you should say it. I am not interested in all that your intellectual rigmarole about senility and frustration,' he thundered.
I asked, quite curiously: 'So, what are you getting at?' He said: 'You were right in your thesis that Ndigbo had been too long away from power. You were also right in the analysis that because of the long absence, they may have missed the trend. But you also missed the point that they had been divested of real politick, hence the sentimental out-pouring about none agreement of transferring power from South-South to South-East on mere wishful thinking when an agreement, already codified in the constitution of the PDP, cannot be honoured.'
I was taken aback at the lucidity before me. Then he bellowed - like sweeping an arm across a table if he was sitting down at his end - 'go tell your people that they have lost out from day-one if their hope is anchored on single newspaper advertorial.'
I tried to cut him short, crying: 'Why do you say my people? Are they not your people also?'
His fierce response: 'Igbo …my man, who has been paying for those advertorials? Bye!' The line went dead!
I just stood gaping.