WOMEN ARE DISTRACTIONS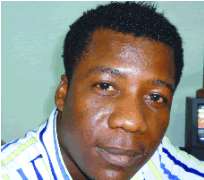 Bon Abie
Young, dynamic and vivacious, Abiodun Ajani aka Bon Abie is gifted when it comes to music. Like the late Dagrin, his kind of music is unique in the sense that it resonates with the indigenous lingo. Bon Abe indeed raps well in his mother tongue, Yoruba.
However, while many of his colleagues and forerunners in the industry have been preoccupied with love themes, Bon Abie has chosen to sing about societal problems. He has decided to hit the bull in the eye by calling a spade by its name. He uses his music to call government's attention to the deplorable roads, dirty environment and lack of basic infrastructure in Nigeria.
Adhering to the saying that charity begins at home, Bon Abie chose his place of residence, Ibafo, Ogun State, as a critical case study of the larger socio-political problems in the country. His single, Ibafo, which is making waves on radio, encapsulates all that Bon Abie abhors about Nigeria. Having worked as a graphic artist, events manager and show promoter, Bon Abe discovered his talents while idling away at an event he co-organised recently.
Recalling the experience, he narrates thus: 'I knew I had the ability to sing but I did not have the courage to bring it out. But it all happened recently at an event I co-organised. It was one of these big musical concerts where many big names in the music industry had been invited to perform. We had set the stage and were waiting for the show to start, but while waiting, some up-coming artistes seized the opportunity to perform and I also joined them in doing this. Actually, I was vocalizing in Yoruba, and it was a surprise seeing people appreciating what I was doing. It appeared as if I had thrilled them with my performance. They were telling me I could do it, that I could sing and rap well in Yoruba. This was before the like of Dagrin came up. That was an incident that emboldened me. Since then, I began practising the act on my own, mostly at my leisure time.'
Inspired mainly by the depressing situation in the country, Bon Abe declared that Nigerian leaders have failed in making the nation a place of pride, most especially, for the youth. 'I am depressed about everything in this country. Nothing seems to work well; no good roads, no regular electricity, no pipe- borne water and other basic necessities of life. Ibafo, where I live is so bad that we wished we had a more responsible local government there. Those who should take things upon themselves have also failed to be responsible. The whole situation is very frustrating,' he lamented.
Born 31 years ago on Christmas Day, Bon Abe's mentor is Jesus Christ, the Saviour whose birthday is celebrated globally on December 25. 'Jesus Christ remains my mentor any day, any time,' he quips.
About his love life, Bon Abe would rather say women can wait till he achieves success musically. 'I don't want to get distracted by women. I want to concentrate on music for now,' he said
Disclaimer:

"The views/contents expressed in this article are the sole responsibility of

NBF News

and do not necessarily reflect those of The Nigerian Voice. The Nigerian Voice will not be responsible or liable for any inaccurate or incorrect statements contained in this article."