2011: EBUTE ASKS IBB, SARAKI TO WITHDRAW FROM PRESIDENTIAL RACE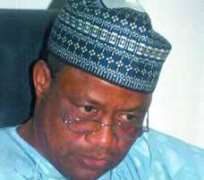 Former Senate President, Chief Ameh Ebute, has warned the Peoples Democratic Party (PDP) presidential aspirants, General Ibrahim Babangida and the Kwara State governor, Bukola Saraki, against ignoring the call by party leaders from the North-Central PDP for them to withdraw from the race in their own interest.
Ebute counselled the two aspirants from the geo-political zone, to listen to the voice of reason and support the candidature of President Goodluck Jonathan in the 2011 general elections for the good of all.
Describing his position as a genuine one, given the prevailing circumstances, Ebute, from Benue State in the same zone, in a statement in Abuja yesterday, told the presidential aspirants to read the writing the on the wall and accept the majority view from the North Central to support Jonathan.
Key political leaders from the North-Central zone, comprising Senate President, David Mark and governors from the states in the zone, had met in Abuja during the week, where it was decided that Gen. Babangida and Saraki, two presidential aspirants from the region be prevailed upon to shelf their ambition for President Goodluck Jonathan.
Ebute said on this: 'Let me emphasise that the meeting convened in the official residence of the Senate President on Tuesday, October 19, 2010, to support Goodluck/Sambo ticket was properly constituted and attended by all those that matter in the middle belt politics'.
'I commend the spirit of the contest so far, but there is no gain-saying the fact that we have decided on which way to go in 2011. All reasonable persons in the North Central cannot but follow the trend'.
'All the aspirants are free to contest, but our resolve to support Goodluck/Sambo ticket in 2011 is irrevocable.'
He added that neither the Senate President, Senator David Mark nor the Goodluck/Sambo coordinator for North Central zone, Governor Suswam, owe anybody apology or explanation on the decisions we have reached.'
He then commended Senator Mark for the statesmanship he has exhibited and charting a new course for the people, noting that the North Central remained the political hotbed of Nigeria and 'there is no real or imaginary threat to the Goodluck/Sambo ticket from the zone.'