DON'T PLAY GOD, JONATHAN TELLS CIROMA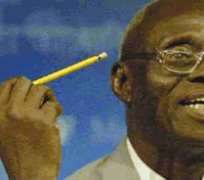 The Goodluck/Sambo Presidential Campaign Organization has accused Mallam Adamu Ciroma, elder statesman and former finance minister of playing God as he leads the charge against the legitimate aspiration of President Goodluck Jonathan to seek his party's nomination to contest the 2011 presidential elections.
In a release signed by Sully Abu, Director, Media and PublicityGoodluck/Sambo Presidential Organisation, the organisation said its reluctance to take on Ciroma over his opposition to President Jonathan's aspiration derived from its utmost respect for him as an elder statesman, a party grandee and a man to whom, this country has given a lot.
Abu said in the release: 'The least the people of Nigeria expect from a man of his status is to help build the country and help repair any ethnic and sectional faultlines that may exist. However, Mallam Adamu Ciroma has taken on a rather divisive role. Insisting that he is speaking for the North he has been playing the politics of division and in a way which would not edify the country's unity.
This insistence flies in the face of overwhelming evidence of the yearning of all Nigerians including those Mallam Adamu Ciroma said he is speaking for to seek change in the way this country is governed and especially, in their material condition. Indeed, every available indication is that our people are sick to death with the divisive politics of yesterday and those who have been responsible for the country's underdevelopment and regression. No one should delude himself that he is speaking for the North or any other part of the country for that matter, unless they are willing to go along with the people's yearning for change; fundamental change, the statement said..
'With regards to the PDP's zoning formular, the party, according to the statement, recalled the circumstances of President Jonathan's ascension to the Presidency and his legitimate ambition, and decided that he is entitled to contest just as other aspirants. Any loyal partyman should have the discipline to abide by the decision of the party.' The statement continues, 'The Goodluck/Sambo Presidential Campaign Organization recognizes the last ditch ambition of some aspirants for whom 2011 represents a last chance to fulfill their dreams. But that desperation should not be equated with the interest of our people. It is Almighty God speaking through the people who will determine the futur.e' of Nigeria and President Jonathan and not the arrogant few who seek to play God.