Electoral Act Rejection: Senate Not In Conflict With Jonathan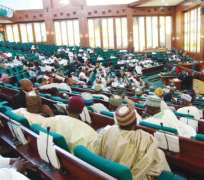 ABUJA, Oct 21, (THEWILL) - The Senate today came out in stout defence of its rejection and subsequent throw-out of the Electoral Act Amendment Bill on Wednesday declaring that the rejection was not done to target or spite President Goodluck Ebele Jonathan.
It said that the Senators in the first place have no reason to confront or fight the President, adding that their action was rather a conscious effort to entrench internal democracy in the political parties.
Senate spokesman, Senator Ayogu Eze who made the disclosure said the rejection of bill was not a sign of a collapsed relationship between the Senate and the Presidency.
He stated this in an interview adding that the Senate's action was a demonstration of the democratic process and a sign that the senators were ready to defend the nation's democracy.
According to the Senator Eze, the lawmakers were absolutely not fighting the President adding that the senators have no reason in the first place to fight the President. "We are not fighting the President. The rejection of the Electoral Act Amendment Bill has nothing to do with the President. We have no issues at all with the President. There is nothing we asked from him that he didn't do. You will recall that he even appointed one of us as a Minister. "The target of the rejection is absolutely not the President. The target is whatever will help our democracy. We have no problem with President Jonathan. "I can confirm to you that the rejection of the bill was not targeted at President Jonathan. There is nothing we are expecting from him and there is no reason to disagree with the President. What we expect him to do is to lead this country and so far he is doing very well," he stated. The Senate had on Wednesday in a voice vote rejected amendments proposed to the 2010 Electoral Act by President Jonathan. Though some sources insinuated that the lawmakers were angry with the President and had decided to reject the bill to show their anger, Senator Eze said that the rejection had nothing to do with Jonathan. "We have no issues with him and I can tell you that we have a smooth relationship with the President. What else do we want, or do you expect him to move the Presidency to the National Assembly?" THEWILL however gathered that the lawmakers decided to reject the amendment bill as a result of the fear that allowing political aides of the governors and the President to vote at conventions of the party could be counterproductive. A lawmaker who would rather not be named said: "Many Senators are having issues with their governors over the delegate structure. So the decision to reject the amendment seeking to include aides of governors and the president as automatic delegates could endanger the return bid of the lawmakers to the Senate and the House of Representatives. "If aides of governors are allowed to emerge as automatic delegates many senators and House of Representatives members will not win their primaries. Imagine the fact that some governors have over 1,000 special assistants. So the decision to reject the amendment is a self preservation bid for the lawmakers."