Supreme Court Will Decide Governorship Election Petitions; Senate Votes On Second Alteration Tuesday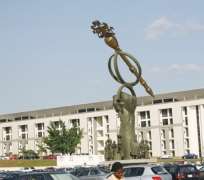 ABUJA, Oct 21, (THEWILL) - The final copy of the second alteration of the 1999 Constitution which was formerly laid on the Senate table today recommends that the Supreme Court would be the final court of arbiter in all governorship election petitions. The highpoint in the report obtained by THEWILL was the recommendation of a new election time frame not earlier than 150 days and not later than 30 days; meaning that the 2011 general election would now be held in April.
Senate Deputy Leader, Senator Victor Ndoma Egba who is also a member of the Committee on Constitutional Review formally laid the report on the Senate floor. THEWILL gathered that the Senate would nonetheless vote on the second alteration on Tuesday, next week, which would grant the extension of time for the conduct of the 2011 general election as requested by the Independent National Electoral Commission (INEC). Senate Spokesman, Senator Ayogu Eze had on Wednesday given an insight into the new timeline when he briefed reporters at the end of plenary session on Wednesday. He said the Senate is hoping to give INEC not earlier than 150 days and not later than 30 days. "We are hoping that if we give them not earlier than 150 days and not later than 30 days, it will give them the scope of time they need. They do not even need to change the law after this particular year when they are through in the next election, if they have time, they can start early because they now have enough time to start and fix election. So we have given them enough scope within 150 days and 30 days. "And I want to assure Nigerians that that will be delivered timely. So what is important is to keep our eyes on the ball, and moreover people inside the Committee are already working hard on the electoral act to purify it to conform with changes that are being made in the Constitution.
"I want to say essentially that not much time will be lost and that we are committed to ensuring that we deliver it on time and ensure that handover is not affected on May 29 but I believe it will not go beyond Tuesday this time around and that is really the crucial thing that INEC needs to give them that breath of time," he said.