LAGOS KIDNAP, HOW SACHET WATER SAVED OUR LIVES – VICTIMS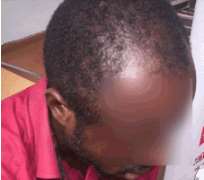 Suspect
Two sisters, who were rescued in Lagos recently, from suspected kidnappers, have narrated how they used sachet water to attract the attention of a passerby, which led to their freedom.
They explained that it was the same unknown person, who invited policemen to free them. The lucky girls, Nchedo, 21, and her sibling, Chidinma, 20, (surnames withheld) said they would not forget the harrowing experience they had in the hands of the suspects, who threatened to kill them.
Nchedo told Daily Sun how she thought the kidnap was their last moment, as they were kept in a dark room in Iba area, near Lagos State University (LASU) for 25 days. The victim relieved how she and her sister were abducted at gunpoint, and in the full glare of some passersby, who watched helplessly as they were driven away by the suspects.
Giving further insight into how sachet water did the magic, she said: 'We were given sachet water to drink that day. And the two men, who usually stayed in the same room with us decided to leave. There was an opening in the window and I saw a man, walking towards the compound next to where we were kept. I whistled to get his attention. 'And when he turned back, I threw the pure water at him and beckoned on him. When he came, I told him to give me biro and paper very fast.'
'He noticed the desperation in my voice and ran to bring the writing materials. I wrote to inform him that we were kidnapped and indicated where we were kept. I also gave him a phone number to call my relatives to inform them of our whereabouts,' Nchedo said. She said: 'We went to collect clothes from Dry cleaners at the First Gate, Festac Town. As we were returning home, a Mercedes Benz car double-crossed us. Two men came out and one of them pointed a gun at us. It was just some minutes after 5 pm. They commanded us to enter their vehicle. They threatened to shoot us if we failed to co-operate with them.
'They drove us to Iba and locked us up in a room. We were kept there between September 2 and 27, but they didn't torture or abuse us sexually. We were only fed with rice once a day. After few days, they used our handsets to contact our family and demanded N40 million ransom,' Nchedo alleged.
Chidinma said the trauma was enough to kill a hypertensive patient.
'You could imagine how we felt, staying in an unknown area with unknown persons we did not know their intentions. The suspects, Chimezie Akanma,29, and Sunday Ekwunife, 31, gave the name of the mastermind of the kidnap as Patrick.
Akanma disclosed how Patrick lied to the victims that their father owed him some money and that they would be released only, if he paid the debt. He explained that he agreed to get involved in the kidnap, after Patrick promised to send him abroad. Ekwunife, who claimed to be living in Kano State, said it was Patrick, who also invited him to take part in the illegal business.
'My role was to guard the girls, to prevent them from running away,' he said.