FLOOD SACKS 5,000 IN BAYELSA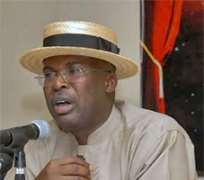 Flood has sacked over 5000 people in two communities in Sagbama and Kolokuma/Opokuma Local Government Areas of Bayelsa State.
The flood, which occurred as a result of the overflowing of River Nun affected Okorozi community in Sagbama and Odi in Kolokuma/Opokuma LGs. In Okorozi, many homes were affected, forcing them to paddle canoes to neighbouring communities for refuge.
Also affected were the Community Secondary School and the corps members' lodge which were completely submerged. Checks indicated that most of the corps members serving in the community had left for Yenagoa, the state capital, abandoning their primary assignment because of the disaster.
A youth leader in the community, Mr. Owoupele Owuous, who explained that the flood was severe because of the collapse of some culverts attached to the drainage system on the East-west Road, said a similar disaster had occurred in the area in 1997 but was ignored by past administrations in the state.
Owuous, however, expressed optimism that the administration of Governor Timipre Sylva and President Goodluck Jonathan would react quickly to the situation.
The Speaker of the State House of Assembly, Nestor Binabo, who left for the community expressed shock at the incident when he was paddled around the Mile 1 area of Sagbama town to inspect the damage done by the flood.
He called for help from all relevant agencies to help the people, especially as many of them, before the incident, were poor.
'I have serious sympathy for those affected by this disaster. This is a call to all relevant agencies to rise up and assist the people of the area. As a house, we would move a motion calling on the National Emergency Management Agency, NEMA, and others to react fast to alleviate the plight of these people,' he said.
In Odi, many homes were also said to have been affected by the flood prompting the community to cry out for help from the Bayelsa State and Federal Governments before the situation got out of hand.