DISTRICT HEAD, COUNCILLOR DOCKED OVER FERTILIZER DIVERSION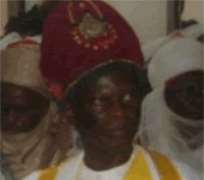 Muhammad
The Attat community in Zangon Kattaf Local Government Area of Kaduna State has taken their District Head and the councillor representing Madakiyya Ward, Mr. Marshal Jacob to court over alleged fertilizer diversion. And the court has since remanded the duo in prison custody.
In an interview with the chairman of the community, Mr. Patrick Tanko, at Madakiya, he said, 'government fertilizer allocated to the Attat community for this year's farming season that used to be handed over to me for distribution to the community was illegally diverted. We contacted the councillor when I was informed about the launching and distribution of the fertilizer to all districts in Zangon Kattaf Local Government and intimated him about the issue.
'Last year, we collected 78 bags with five bags of grains from the councillor for distribution to the community. That was why the community finally resolved and took the matter to the Magistrate Court in Kafanchan.' The counsel to the community, Mr. T.M. Gora, told Daily Sun that when the case came up for mention, the two accused persons refused to appear in court. Hence, the Magistrate issued a bench warrant to arrest them:
'They later appeared and were remanded in court cell and were granted bail and the case was adjoined to October 26, 2010, for further hearing.' The embattled district head when contacted disclosed that though the case was in court, he did not know anything about the allegation of fertilizer diversion by Attat community: 'I only know about it when I was summoned by the court.' He insisted that he was still the recognized District Head of Attat community and the Wakilin Gonan Bajju (the representative of Bajju Farms) despite the protest against him by the community.
He however admitted that the usual practice was to call all village heads for a meeting immediately allocations of fertilizer were received. But could not answer if he has done that in this case and would not disclose the quantity he has collected in the past and the one for 2010.
The councillor said,' I don't know whether the District Head is on exile or not. I won't even tell you the quantity of fertilizer allocated to the Attat community that is the responsibility of the local government council. I am not going to make any further comment on this issue, please!'
When Daily Sun visited the local government secretariat, the chairman, Mr.Timothy Kambai, was said to have travelled to Kaduna. All his phone numbers could not be reached. The vice vhairman was, however, sent a text message and he later called, insisting that even though the chairman was not in town, he would not make any comment on behalf of the chairman on the said issue and would not contact the chairman to alert him of the need for him to respond.