GARLANDS FOR THE MINSTREL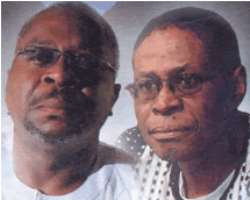 Yerima and Irobi
It was a prophetic statement that came to pass so soon. At the Esiaba Irobi memorial service at Chelsea Hotel, Abuja, on August 6, 2010, Prof. Isidore Diala of Imo State University, Owerri, had predicted that given the unsung manner Irobi died despite the consummate oeuvre he had produced in creative writing, his ultimate recognition was under way.
On Saturday, October 9, the recognition Irobi craved for was eventually granted as his, Cemetery Road, won the seventh edition of Africa's most expensive literary prize, Nigeria NLNG The Nigeria Prize for Literature worth $50,000.
In the run-up to the Grand Award Night, Irobi's work had been shortlisted alongside Adinoyi Onukaba's The Killing Swamp and Ahmed Yerimah's Little Drops. However, Cemetery Road came tops for, according to the panel of judges, led by Prof. Adelugba, fulfilling outstanding dramatic merits.
Born on October 1, Irobi studied Dramatic Arts in the Department of English, University of Nigeria, Nsukka (UNN), from 1979 to 1983. At 22, he wrote one of his masterpieces, The Colour of the Rusting Gold, a play which the UNN Senate selected as the Convocation Play for that year. It was to win the National Gold Medal for Playwrighting in 1983 and was published five years later. As an academic, he lectured at the UNN; University of Leeds, England; Liverpool J Moores University, England; New York University, USA; and Ohio University, Athens, USA. He was on sabbatical leave from his job when he died at Frei University, Berlin, Germany, on May 3, 2010, aged 49.
His oeuvre includes The Colour of Rusting Gold, Nwokedi, Gold, Frankinsence and Myrrh, Hangman Also Die, Cotyledon, Why I Don't like Philip Larkin, among other works in progress. Though he was better known as a poet and a playwright and scholar, Irobi was a versatile stage director and actor. He acted and directed plays and conducted theatre workshops in England, Ireland, Sweden, UDSA, Spain, Hungary, Portugal, Denmark, Australia, Barbados, France and Germany.
Unlike last year when no winner emerged, the literary community is enthusiastic with Irobi's victory. Among others, it has restored lost confidence on the prize, following the furore that attended last year's debacle when no winner emerged, leading to calls for boycott of subsequent editions of the mouthwatering prize by aggrieved writers. With Irobi's emergence, too, it tends to have placated foreign-based Nigerian writers, who had hitherto been excluded from participating from the prize.
This year's event was also remarkable because of the induction of outstanding scholars and achievers in the arts, as well as scientists into the Nigerian Hall of Fame. Some of the high-profile scholars inducted by the Nigerian Academy of Letters included Professor Chinua Achebe, Wole Soyinka, Emmanuel Obiechina, Michael Echeruo and JP Clark; while those in science included, among others, Adeoye Lambo, Olukoye Ransome Kuti, Adenike Abniose, Godian Ezekwe, Chike Obi and Umaru Shehu. Meanwhile the science prize was won by Professor Akahehomen Ighadode of the University of Benin for his work on the Development of New Method in Die Design.
In his welcome address entitled: 'Time to Say Yes to Nigeria,' Mr Chima Ibeneche, Managing Director of Nigeria LNG, said the country is a blessed country in many respects, and ought to be greater with its abundant resources. However, he expressed discontent with the country's leadership, which, he said, has failed to live up to expectation, though the country attained political independence fifty years ago.
'In my view,' he said, 'the most spectacular event of Nigeria 50 years of independence is one that did not occur. We have lived for half a century as the hope of the black man, the giant of Africa, the most populous black nation on earth, without demonstrating -for even a day – that the black man is capable of holding his own; carrying for himself.
'We betrayed that destiny, that expectation, that hope. What a stunning failure; what stunning ill fortune. It is even worse that our failures and betrayal are both public and publicized,' he noted, even as he lamented that that today's Nigeria belongs to area boys, pirates, oil thieves, armed robbers and robber politicians.
Next year's edition of the prize will be restricted to the children's literature genre, in keeping with the tradition of rotation among the genres of prose fiction, drama, poetry and children's literature.