I'M YET TO FIND MY IDEAL MAN – KOLO CROONER, WAJE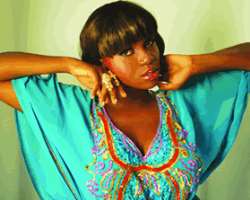 With three singles, including the smash hit Kolo, currently rocking and ruling the airwaves, fast emerging female RnB singer, Aituaje Ebele Vivian famously known as Waje, is sensationally poised to reign supreme in the Nigerian music industry.
The Social Work graduate of the University of Nigeria, Nsukka (UNN), rose to national prominence a couple of years ago, when she featured in the monster hit song, Do Me, by PSquare. She later did a remix of Omoge Mi, another popular song from the duo, which she christened Bobo Mi. The Edo State born fast emerging diva whose mother is from Onitsha, Anambra State, further elevated her craft with collaborative efforts with other talented acts such as: Eldee, Banky W, Omawunmi and a few others. Waje who recently thrilled patrons and guests at this year's edition of the annual Niteshift's Coliseum in Concert, has concluded work on her long-awaited debut album.
The self-titled work is a ten-tracker that will be hitting shelves before December. The busty songbird, whose sonorous voice earned her a scholarship while in secondary, has creatively added a new meaning to her name with the acronym, Words Aren't Just Enough (WAJE). Sincerely, for this talented entertainer, who was the last woman standing in the past edition of Advance Warning, the MTV Base powered music contest for budding artistes, words are simply not just enough for her fledging career. She has added panache, swagger, hard work and verve to it. In her first ever hearty chat with Daily Sun, the very single Waje, without inhibitions told us the story of her life and passion for music, in the saturated industry.
Who's Waje?
First of all, Waje is a female and in her late 20's from Sabongida Ora in Edo State. Waje's dad is from Edo, while the mum is Igbo, from Onitsha, Anambra State and Igbo is the only language I speak very well. I grew up in Benin, Edo State and went to Word of Faith Group of Schools and that was where music started for me because I was in the choir. While at this school owned by the late Bishop Idohasa, I got a scholarship due to my singing prowess, in fact my voice did the magic for me. I've always loved singing and my dad used to beat me a lot, because I was always using screw driver to drill holes on our walls and turn that into my imaginary microphones.
From Benin, we moved to the east with my mum when she and dad separated. From there, I went to the University of Nigeria, Nsukka, where I graduated with a degree in Social Work, so, I'm a social worker turned singer. I sincerely believe that there is a lot that I can do as an entertainer with what I actually studied. When the time comes, I would definitely practice. Lest we forget, my names are Aituaje, Ebele, Iruobe, Vivian, Aina Waje. Waje means laughter in Sabongida Ora. But right now, WAJE is an acronym for Words Aren't Just Enough.
But at what age did you actually discover you could really sing?
I don't think there was an age basically, I just knew that I could sing, but I can't really remember at what age. Based on my Christian background I started quite early from the church. I was a member of the Children Evangelical Ministry and usually sing at our Easter Camp Meetings. I also used to dance a lot as a youth, but now old age has set in.
But professionally, when did you start singing?
Professionally, I started singing in 2007, which was when I did the remix of P-Square's Omoge Mi, which I called Bobo Mi. Prior to this stage I was with an eastern-based label called Dome. I met them when I was young, 19, they were just grooming and nurturing me, but I finally left them this year. We signed a contract but I did not release any album under them, just two singles, 'Somewhere and Kolo.' However Kolo was originally recorded by MTV Base. It was my song for their Advance Warning competition that I participated in. We were told to write our own songs and record during the competition. Kolo was recorded at SABC studios, South Africa.
Immediately after the competition, although, I did not win but was the last woman standing, I decided to drop Kolo as a single and the result/reception has been overwhelming. My debut single, Somewhere, was dropped last year.
You were with Dome Records for a very long time and yet they did not release any full album for you. Did that make you feel bad or disappointed?
I try not to think about it, but naturally it would definitely weigh one down. I was born on September 1, and most of my birthdays I usually think back and very deep. But I've learnt not to blame anybody for my mistakes if I knew what I was doing then, I would have come out with an album a long time  ago. I would have also craved to get good dividends for my singles. It was not entirely there fault. However, having patiently waited for my contract to expire, I finally walked out on them.
So, who are you with now?
I'm doing it myself for now…
But the talk in town is that you recently hooked up with Sam Kargbo Productions. How true is that?
We are still talking and reviewing the offers that are on the table. To be very honest with you, I've got about four labels currently discussing with me. They all want to sign me and three of them are very big and Sam Kargbo is one of them.
Your hot single Kolo is everywhere and making waves, what was the inspiration behind the song?
The inspiration for that song is the womenfolk. I like to represent the girls, the chicks a lot. In a certain way, I'm a feminist. Let's face it for everything that has happened in this world there is a woman behind it, good or bad. But you have to look for a way to make sure that you channel the good part of it as a woman. I was thinking of a good club song that would at the same time represent the womenfolk. It talks about that point you really want to let your head down and party with your female pals. I wrote the song with the help of Cobhams. He was the music teacher in the house at Advance Warming, while a South African produced it.
Talking about Advance Warning, what was your experience in the house like?
It was fun for me because I was so surprised when they called me to be part of it. I was still staying in Enugu State then. As at the time I got the offer, I had already done Do Me with P-Square and Somewhere, was just out then, and was being played by only MTV Base. Over 20 of us were invited for Advance Warning, including MI, Pype, Kel, Terry G, Blaze and several others.
The whole essence was to give up and coming acts the opportunity to get exposed and groom their careers. Initially, I thought I didn't stand a chance among my fellow contestants, because I was relatively new compared to most of them. For the fact that Durella beat me to the final position made me feel very sad. In fact, I cried like a baby. I had already planned what to do with the prize money. I immediately moved on with my life and career after the quest.
With over a decade experience in the industry, you are yet to drop a full album, when should we expect one from you?
It's going to drop this year, in fact, by November and its going to be a self-entitled album - Waje. I feel its about time for me to be heard. Words can't just express how much I feel. I want to add a little melody to the things I want to say. Be it love, romance or whatever it is that I want to say.
What would you say is the central theme in all your songs?
The truth is that in my works there is really no central theme, because my mood changes easily. Today I could be excited over something and the next day that excitement fades. I'm also very territorial and combines both characters of introvert and extrovert. As a young girl, I partied a lot, but now, we are tired of such activities. But above all, my songs are full of inspiration and very positive. It's a ten tracker with two skits. One of the singles in the album, entitled, For A Minute, is already out. I also worked with Dr. Frabz, as my producer on this project. This new single is currently on every top 10 singles countdown on air. I'm grateful to God for giving me the inspiration and energy to do this work. As an RnB singer, I decided to taste the waters with this new single. I've been getting good reviews for all my works, especially this new single.
You've also done quite a lot of collabos with several leading and emerging Nigerian musicians, your Do Me duet with P-Square was the icing on the cake. How did that happen?
They came to Enugu for a show and performed there, that was how we met. When they were recording the Game Over album, they called me and asked if I would want to be part of it and I said yes, the rest is now history.
The fact that you were not given enough credit in the album, did it make you feel bad?
Yes, to a certain level. At least, as human beings striving for excellence in anything we do, we want some sort of leverage. And when that is not forthcoming you begin to question a lot of things, especially your decisions. When it comes to the Do Me issue, I usually treat it as a very sensitive topic. Mind you, people always like to hear what they want to hear. As far as I'm concerned, I'm grateful to God that I did it with P-Square. At least, I've been associated with a big hit and it cannot be removed from the sands of time. Its now part of history that Waje was the female voice in Do Me. I went to a show in Sierra Leone and nobody knew who I was, but the moment I did the Do Me thing, the crowd erupted and I was brought back on stage to perform again.
But did you ever confront P-Square to bare your mind on the issue of not getting your full credit in the album?
Initially yes, but you know, I have never performed that song on stage with them. The first time they wanted me to perform with them, which they did through my then management; both parties were unable to reach an agreement. I was in Onitsha then and was caught in the middle of that failed arrangement. Truth is that I will blame myself for most of these shortcomings as an inexperienced artiste then, I made lots of mistakes, but that's past now.
How often do you see and keep in touch with P Square?
We see ourselves very often they are my brothers and I'm still their lovely sister in and outside showbiz. I look forward to having another collabo with them very soon. We are both good at what we do and they encouraged me a lot. I'm very proud of them as great musicians.
We would like you to share with us some of the major collabos you've done with popular Nigerian musicians?
Okay, let me start with P Square, Banky W, Omawunmi, Eldee, MI, Munachi Abi, a fantastic rapper and several others.
You recently performed for the first time at the Niteshift during this year's edition of the prestigious Coliseum in Concert.
What was the feeling like and how did you come on board?
It was a plus for me and my career, I felt really good. Now Music's Don T, got me the offer. Last year, I was there with Omawunmi when she performed. I jumped at the offer because it was a live show and I love live performances a lot. I had fun and really enjoyed myself that day while performing.
How often do you get to perform at shows?
We thank God because its far more better than it used to be in past. Agreed, it might not be as often or grand as I want it, but the doors are opening and the shows are coming my way. It's a building process that is inspiring me to work harder. I know where I'm going and I know that I will reach there someday, in fact, soon.
Then that you were starting, did your parents approve and support your career line?
Yes, they did, because from the onset, they knew that was what I'd always dreamt of doing. My parents also knew that I'm a very spiritual person.
What is the next level for you?
For me, the next level is to improve on my craft, I see myself as a blessed child and a lot of people believe in me. The truth of the matter is that I have to make sure that I give back to all those that believe in me.
With over ten years experience in the industry, no doubt, you must have also faced some challenges, we would like to know some of these hiccups?
Let's face it, financially, its challenging sometimes being a musician, especially when you're a lady. But the whole thing becomes easier when you know how to brand yourself properly. It was also challenging then for people to locate my whereabouts.
Who would you say are those role models that have really influenced you and your career?
I grew up listening to Onyeka Onwenu a lot, Evi Edna, Christy Essien  Igbokwe and even Mike Okri, they have all affected my career positively. We need proper management and P.R, to help the Nigerian music industry grow. We also need the proper structure to grow the industry.
Is Waje married?
Not yet.
So, when are you taking the bold step?
I don't know o! The Bible says he that findeth and not she that findeth.
So, who's the man in your life currently?
Sincerely, there is nobody or man in my life as we speak.
What happened to the last guy in your life?
We are still friends…
Are you ready for marriage now if the right guy comes?
Let me put it this way, if he comes my way and is the right person; I will give it a serious shot.
So, generally, how are you coping with men and their constant advances as a single and unattached lady?
To be honest with you, they're not around and I don't see any. My ideal man must be very confident, principled, responsible and God fearing.
So, for how long have you been without a man?
Since September 2009, but please leave that aspect of my life out of this chat.
Tell us more about your family?
I'm from a family of three boys and two girls. I was born in Akure, Ondo State. We later moved to Lagos, Benin and Enugu, respectively. So growing up was fun for me. Right now, the biggest thing I've achieved in my career is fulfillment. Sometimes ago, I was a little bit discouraged. Making people happy with my songs also makes me happy and fulfilled.