FIFA ETHICS PANEL FIXES DATE FOR ADAMU'S HEARING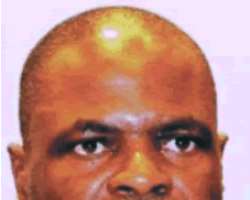 Adamu
FIFA executive committee member, Amos Adamu, will face an ethics panel hearing Wednesday after being implicated in a bribery scandal involving the vote for the 2018 and 2022 World Cups. The Nigerian told the Associated Press at FIFA headquarters on Monday that his hearing is set for the same day another FIFA official, Reynald Temarii, faces a similar case.
Adamu declined comment later after meeting with FIFA's President, Sepp Blatter, who has promised an 'in-depth investigation' into the corruption allegations against the two officials.
The probe follows a report in Britain's Sunday Times—based on a sting investigation by undercover reporters—that Adamu and Temarii offered to sell their votes in the bidding for the World Cup. The FIFA vote on the 2018 and 2022 World Cups is scheduled for Dec. 2 in Zurich.
The FIFA Ethics Committee is chaired by Claudio Sulser, a lawyer and former Switzerland international player. The panel can enforce any punishment in FIFA's disciplinary code, including banning officials 'from participating in any kind of football-related activity.'
Temarii, the Oceania Football Confederation's President, said on Sunday that he made a mistake in talking to the reporters, who secretly filmed him asking for NZ$3 million ($2.3 million) to fund a football academy in Auckland, New Zealand.
'I'm confident about my integrity but I made a mistake by talking in that way,' Temarii said in an interview at a Zurich hotel. 'I asked the FIFA president to investigate. I gave him a letter. It's important for me that the ethics committee investigates how I manage my relations with bidders.'
The newspaper quoted Temarii as saying backers of two other unidentified bidders had offered $10 million to $12 million to his Oceania confederation.
Adamu was also secretly filmed by the reporters, who posed as lobbyists for a consortium of American companies, that he wanted 500,000 pounds ($800,000) to build four artificial football pitches in Nigeria. The reporters had no connection to the official U.S. World Cup bid committee and no money changed hands.
Adamu told the reporters he would want the money paid to him personally, saying: 'Certainly, if you are to invest that, that means you also want the vote.'
He offered a 'guarantee' to vote for the Americans in the 2018 race, but said they would be his second preference in 2022. The U.S. withdrew last Friday from the 2018 contest to focus on 2022.
The 2018 race is now among four European candidates: England, Russia and joint bids from Belgium-Netherlands and Spain-Portugal. The 2022 contest is between the U.S., Australia, Japan, Qatar and South Korea.