I'VE NO PROBLEM WITH OHAKIM – JANATHAN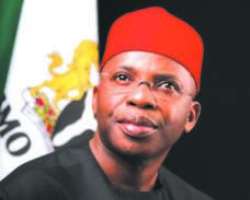 Ohakim
President Goodluck Jonathan has disclosed that contrary to insinuations, he has no disagreement with the Governor Ikedi Ohakim of Imo State. He made this known while speaking at a banquet organised in his honour by the state government as part of activities marking his two-day visit to Imo State.
President Jonathan said that since he became the Vice President of Nigeria in 2007, he had visited Imo state more often than any other state outside his home state, Bayelsa.
He urged Chief Ohakim to remain focused and committed to his goals of improving the lot of Imo people.
'Your fate must be dictated by people you are ruling, not by people in Abuja. As long as you are doing the right thing, no one can dictate whether you will win an election,'' the president said.
He added that his administration was committed to ensuring a free and fair election in the 2011 and called on all Nigerians to assist in achieving this objective.
President Jonathan promised that the Federal Government would partner with every state that embarked on any development project and hoped that Nigeria would become a great country in no distant time.
Earlier, Governor Ohakim thanked the president for coming to commission the numerous projects executed by the State Government.
He informed the president that though a few disgruntled politicians painted a false picture of crises in the state, Imo is peaceful and a 'lovely state.'
He assured President Jonathan that Imo people would continue to support his administration in its bid to fix the nation's economy and electoral process.
Governor Ohakim further told his guest that his government had recorded a feat by completing a road that criss-crossed 19 communities and linked Imo and Rivers State Airport.
In a vote of thanks, a frontline politician in the state, Chief Emmanuel Iwuanyanwu than ked God for the gift of Mr President to
Nigeria, and the Igbo especially.
He stressed that Imo state PDP has been peaceful under the leadership
of Governor Ohakim who has equally achieve a lot in the past three and year years.