TEAM AMOKACHI VS OLD BENDEL NOW THURSDAY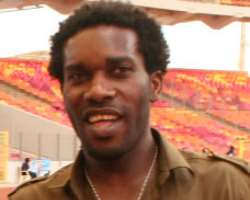 Okocha
The much expected game between Team Daniel Amokachi, comprising established stars such as Jay Jay Okocha, Gentle Giant Uche Okechukwu, Aloy Agu, Mutiu Adepoju and other players of the past, and Old Bendel Insurance players led by Monday Eguavoen scheduled for the Samuel Osaigbovo Ogbemudia Stadium in Benin City on Tuesday has been postponed for two days.
Kingsley Ozumba of Pamodzi International says the shift is at the instance of Edo State Governor, Comrade Governor, Adams Oshiomhole. 'The governor asked whether the game could be played on another day and all the stars expected present even if it's at 10a.m and we told him, it was possible.
'That is why we have shifted the game because his schedule is very
tight officially. There are already indications that top stars expected for the game such as Gentle Giant Okechukwu, Okocha and others have since been arriving the country, even as Super Eagles coach, Austin Eguavoen, who is also part of Team Amokachi to be led by the former Everton forward is expected to arrive early for the game.
On his side, Monday Eguavoen, who will lead the Old Bendel Insurance team , said he was sure that the event which is to commemorate the launching of the first branded pitch in the country branded after Dr Ogbemudia is already a success and his team will eclipse the old national team players. 'We're hoping for an amazing event and after this one, it will be open that Edo is back in the main stream of sporting states in Nigeria', a top official of the state's sports ministry told reporters in Benin City.