GOVT NEEDS N9BN TO HALT OYAN DAM FLOODING – DANIEL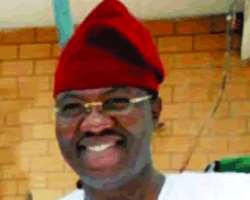 Unless the Federal Government comes to the aid of the three owner states of Oyan dam, the issue of constant flood which has ravaged many communities in the states and rendered several homeless in the last three weeks may continue to be a recurring decimal. Ogun State Governor, Gbenga Daniel, urged the Federal Government to provide about N9bn for the rehabilitation of the dam.
Daniel spoke in Lagos yesterday at the Founders' Day and Appreciation/Thanksgiving Service of the African Church held in his honour.
Among dignitaries who graced the occasion were the Lagos State Governor, Mr. Babatunde Fashola, represented by his deputy, Mrs. Sarah Sosan, Akwa Ibom State Governor, Mr. Godswill Akpabio, represented by his wife, Mrs. Ekaette Unoama Godswill Akpabio and the Acting Lay President of the church, Chief Ebenezer Olubukunola Okunowo.
Governor Daniel commended the state governors on the occasion for their landmark achievements and display of effective and efficient leadership qualities.
Specifically, he said the dam belonged to Ogun, Oyo and Lagos, adding that Ogun State could not afford to shoulder the responsibility of the financial commitment needed for the rehabilitation of the dam, hence there was need for the Federal Government to take up the funding of the project.
Giving a further breakdown of the rehabilitation cost, Daniel explained that the initiative would involve the construction of three artificial lakes with each costing N3 billion, stressing that the project, upon completion, would put a stop to the flooding of the three states. Daniel, who was represented at the ceremony by the state Commissioner for Women Affairs and Social Affairs, Mrs. Josephine Tobi, explained that the flooding of the three states over three weeks ago was as a result of the release of water from the dam to prevent the Oyan dam gate from collapsing.
Based on the foregoing, Daniel stated that he had already opened talks with President Goodluck Jonathan on the need for the Federal Government to come to the assistance of the state towards the rehabilitation of the dam through the construction of the three artificial lakes. Currently, he said Ogun State could not afford to take up the cost of the project due to the huge amount involved coupled with the fact that the lean resources at the disposal of the state government could not allow it to embark on such huge capital intensive project.
'If the gate of Oyan dam collapses, we are going to experience another Tsunami in the country, which we do not pray for.'